Wardrobes are no longer just a storage space for our junk. The way we look at wardrobe colours has evolved over the years. They have become a part of our design aesthetic and they can be an eyesore if they do not complement the interior design scheme of our rooms. Wardrobe colors matter more than ever now!
Let's look at some delicious Livspace wardrobe color combinations that are sure to grab eyeballs!
#1: Go bold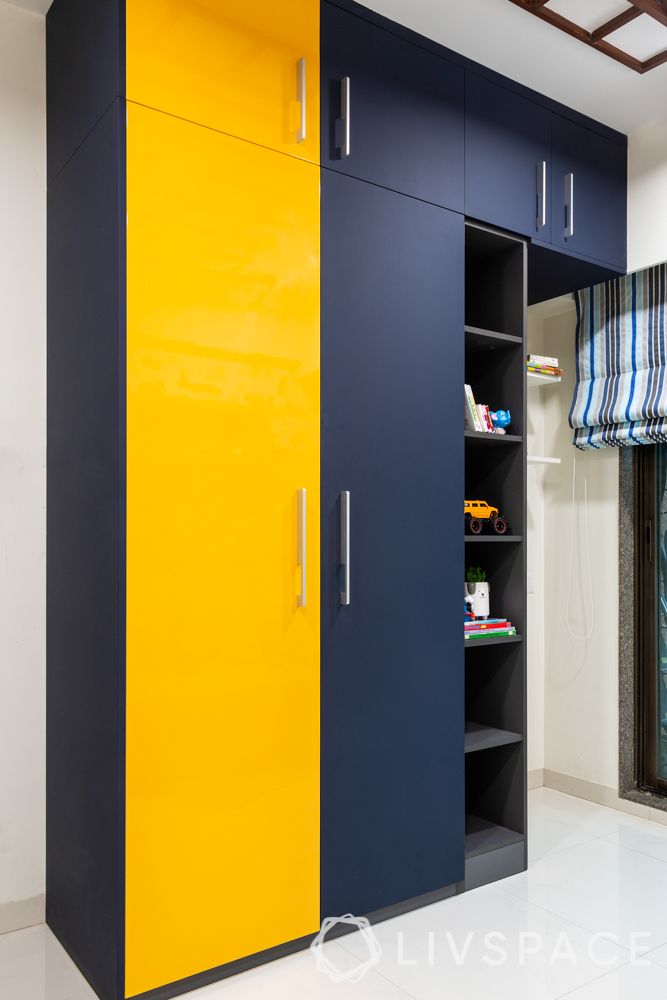 When the rest of the room is done up in muted tones of whites and neutrals, your best bet for your wardrobe is a bold color. And what better than dusky blue and bright yellow? See how this color makes a bold statement in the otherwise milky room?
Recall the colors of the ocean with this bright blue Livspace wardrobe. Who said feeling blue is always bad?
#2: Balancing act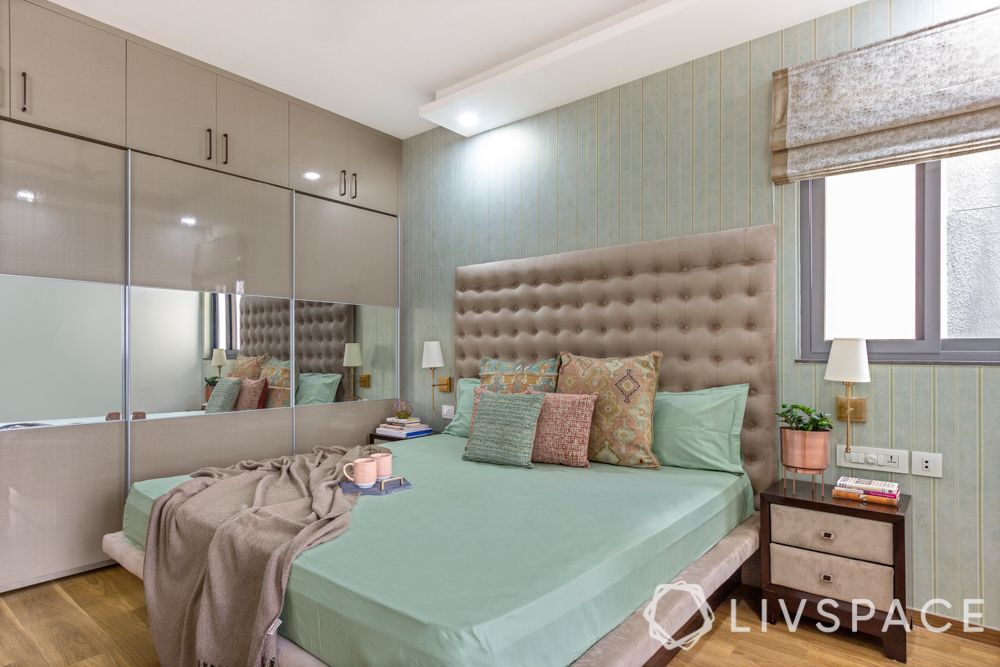 Balancing is the key to a great design with a colour guide, be it in terms of proportions, textures, colors or material. This room is the perfect example of how to balance your wardrobe colors and achieve a captivating look for your bedroom.
A muted shade like rose quartz works like magic with the burnished hues of wood or even with splendid whites or creams and creates a delicious mix of shades. This wardrobe color combination is great for stirring a soothing mood either in the master or even the guest bedroom.
Pro tip: Use this wardrobe color combination in small or compact bedrooms since lighter hues create the illusion of more space. Take a look at design tips for wardrobes to make them fit in the tiniest of rooms for more advice on small bedroom wardrobes.
#3: Woody calm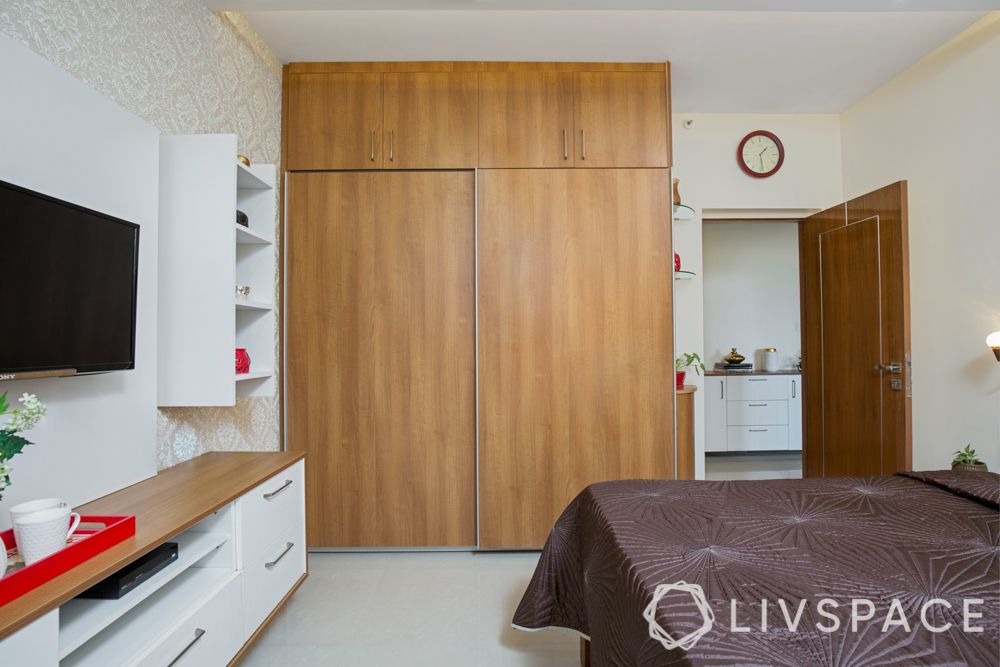 Wood finish wardrobes look classy and are an all-time favourite when it comes to Indian homes. More so because we all know that going back to your roots and harnessing organic tones is going to be huge in 2017.
Play match-match with the rest of the room and mirror your wardrobe's woody accents on the TV unit, side tables and mirror frames. Play up the earthy vibe of your room by using shades of brown on the walls. Delectable shades of mahogany, cherry and oak give a twist to traditional Indian wooden wardrobes usually found in teak.
#4: Color block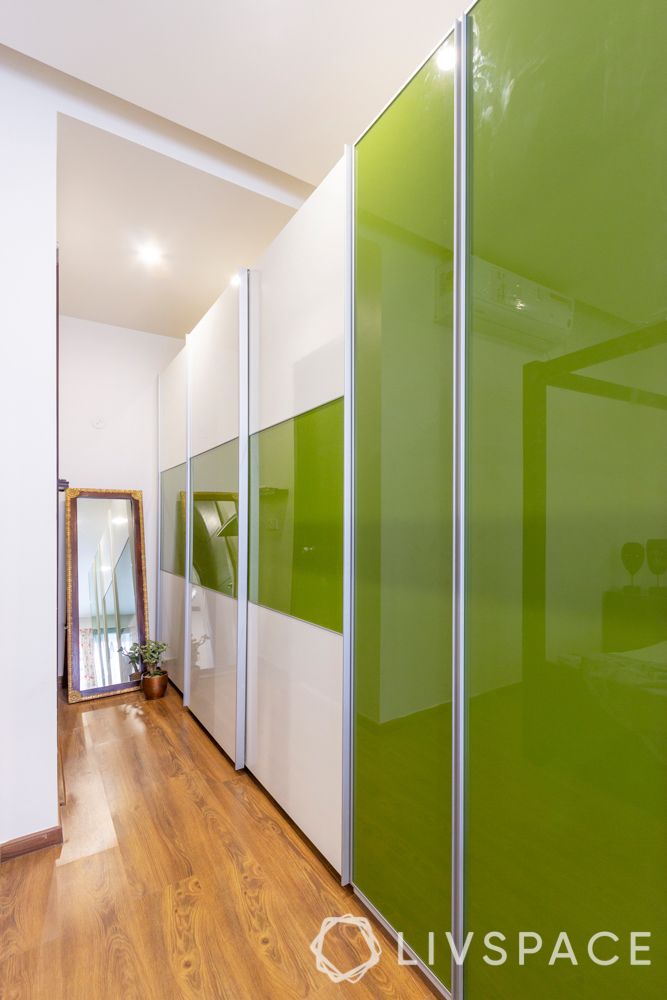 You can play with cupboard colors and let your imagination run wild. Make it bright by using bold and happy colors or play the cool card with a clever mix of elegant shades.
Here, we've paired the greenest of greens (Pantone shade greenery) with white to depict a city jungle. We love the wooden flooring and the full length mirror.
Go with a theme that you will love and a unique color block to make things pop.

#5: Sunny rays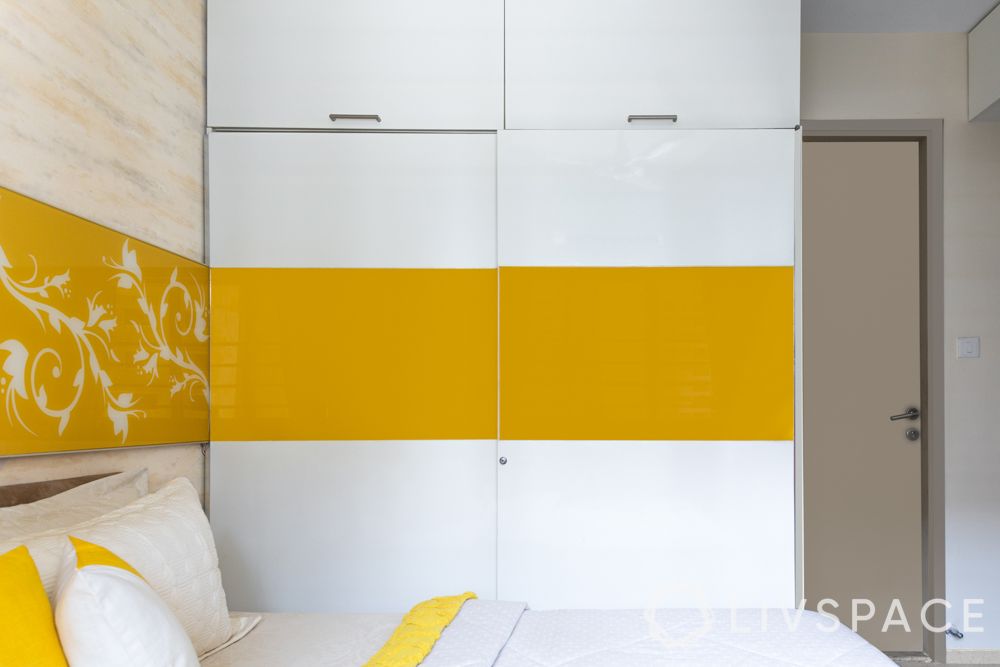 Well, we all can always do with some sunshine in our rooms, and what better way than to introduce it in your Livspace wardrobe? Decor pandits swear that sunshine yellow is going to make a statement. But make sure you use it in the right way and in the right places.
For instance, don't splash your walls with this sunny paint, you'll tire of it soon. But it will uplift your mood if it finds its way onto your headboard, wall accent, bed linen or even floor rug. But we love it best when the sun shines through our very own Livspace wardrobe!
#6: Peek-a-boo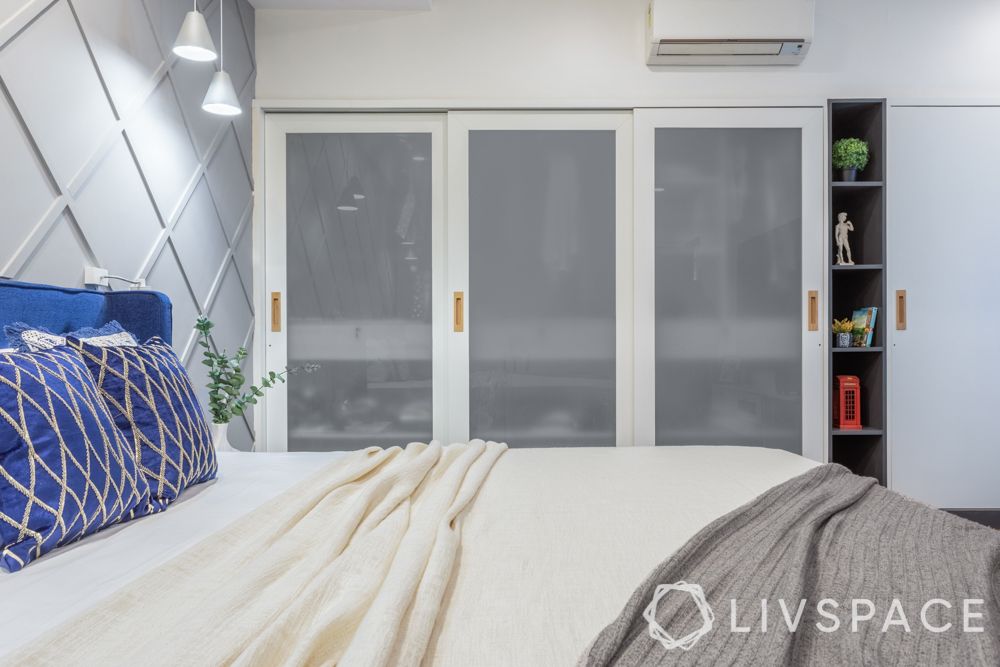 This one's a bonus for you. Sometimes, a wardrobe color may seem overrated, that's why we have this little trick.
Frosted glass doors create a classic wardrobe for those who love a little peek-a-boo here and there. The best thing about this is, that you do not have to worry about matching or complementing the interiors of your room with it. It looks good in any room.
So, what are you waiting for? Use these color combinations and turn your boring wardrobes into a fabulous decor accent today!
Tips for kid's bedroom wardrobes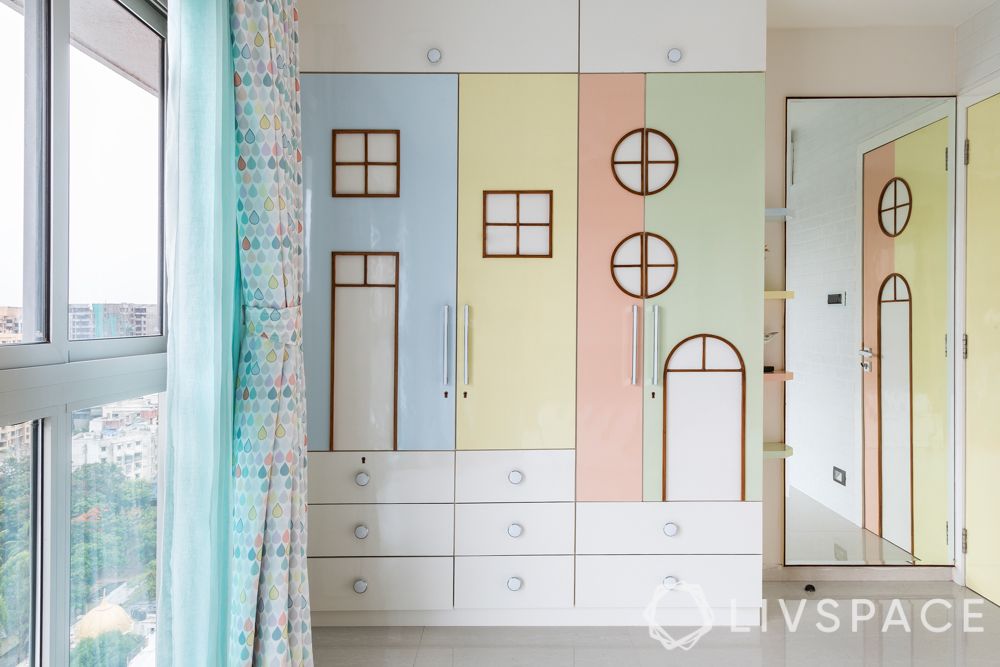 Design a room that your children will cherish for a long time. For a long term option, select wardrobe colours that are gender neutral and pastel until your kids can take a decision. However, you can also opt for unique designs or their favorite cartoon characters.
Vastu approved wardrobe colours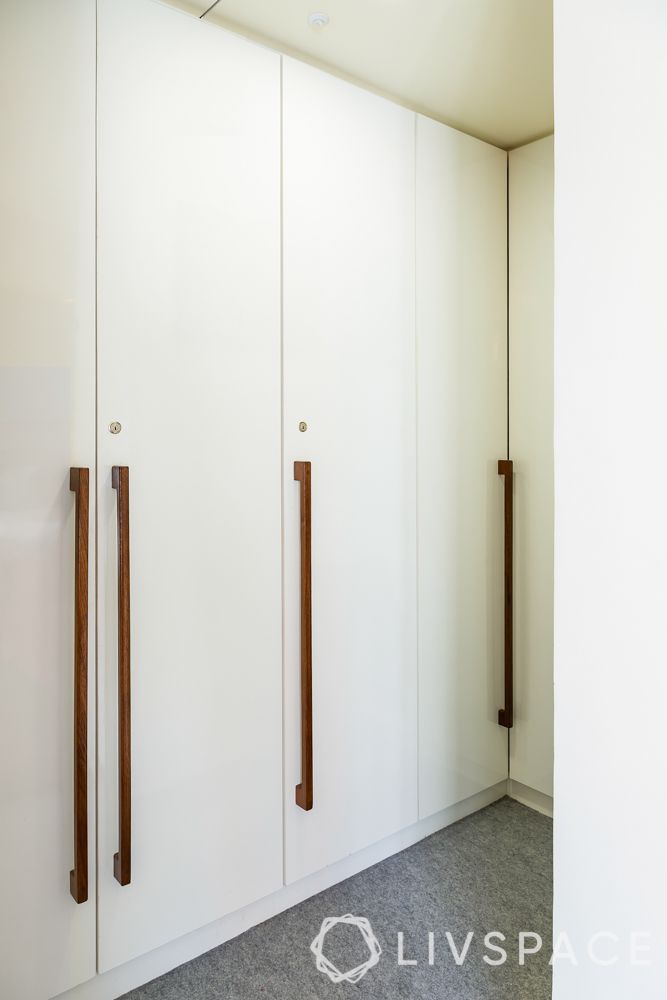 The most popular vastu-approved colours for wardrobes are light wood finish, neutrals and whites. When wardrobes take up a considerable amount of space in a room, opt for colours that look seamless and sleek. Moreover, these colours reflect light, giving the room a spacious feel.
Wardrobe colours to avoid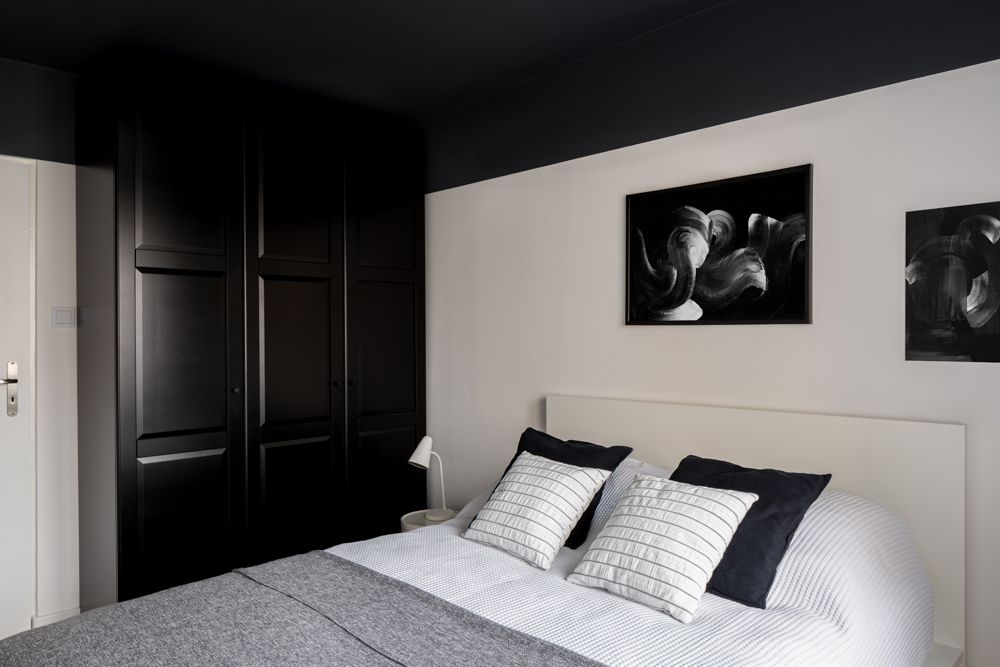 Always avoid flashy wardrobe colours. Colours like red and black signify negative emotions like anger. Therefore, do not opt for deep and dark colours. Moreover, dark colours can make the room look flat and smaller than it is.
If you found this article helpful, take a look at Swing or slide open wardrobe: How to find the best fit for your home?
Send in your comments and suggestions to editor@livspace.com