The whoosh of speed in your ears. A gust of wind in your hair. And a squirming sense of weightlessness, even if it's just for a moment. All these experiences of a carefree childhood point to a swing and the absolute sense of freedom it brings. Swings are more than furniture or decor. They transcend the premise of requirement or affordability. They are just pure joy! So if you aren't doing enough with your balcony and want some quality outdoor time, you might want to invest in a balcony swing.
What better time to get one than now? Thanks to the pandemic, we just might be spending a few more months at home. So let's take you through our favourite swing designs from LivspaceHomes that are perfect for outdoors.
#1: The Balcony Swing for Kids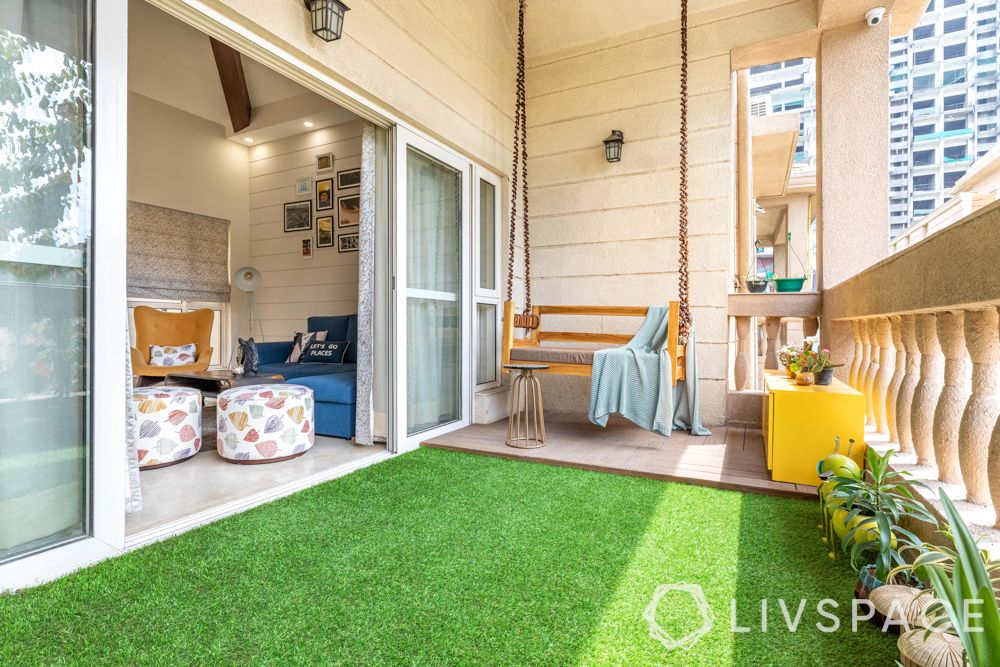 What are the features that you'd want in a swing design for kids? The most important thing would be for the swing needs to be secure because the kids will swing it much faster and higher than adults. Hence, the iron chains and netted child-proof balcony makes sense here.
#2: The Nestled Balcony Swing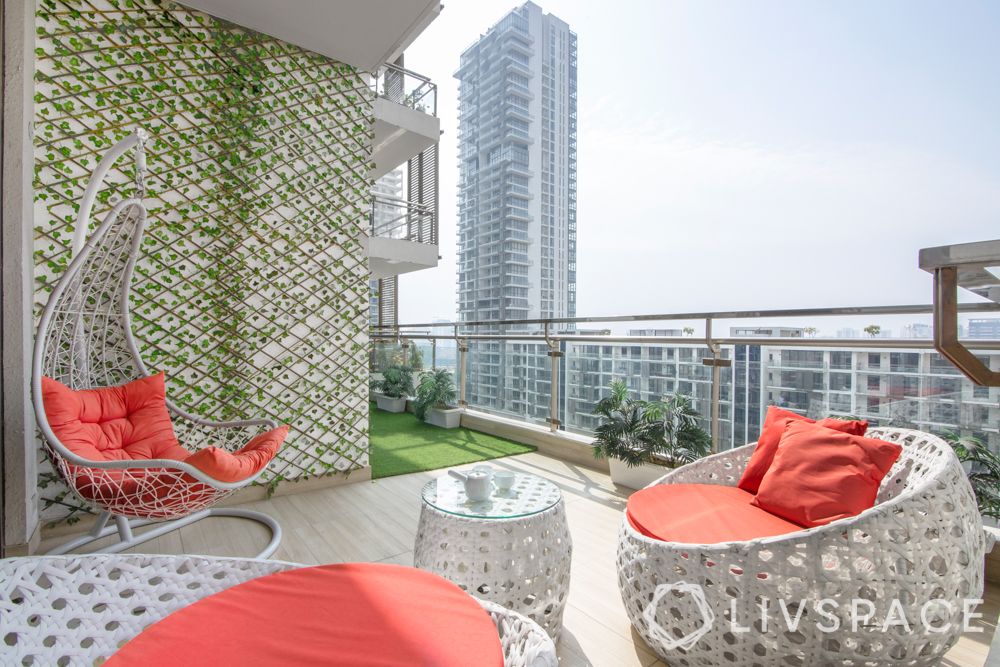 If you are past the age of bending and bowing with the wind but still like the whole playful nostalgia of a swing, this is the swing design you need. A nestled swing is essentially suspended from a stand; it doesn't swing as much but it does rock. It also happens to be the comfiest spot to curl up with a book and a cuppa.
P.S.: Did we say how much we love the fresh coral colour of this swing cushion against the white wicker?
#3: Balcony Swing for Lazing Around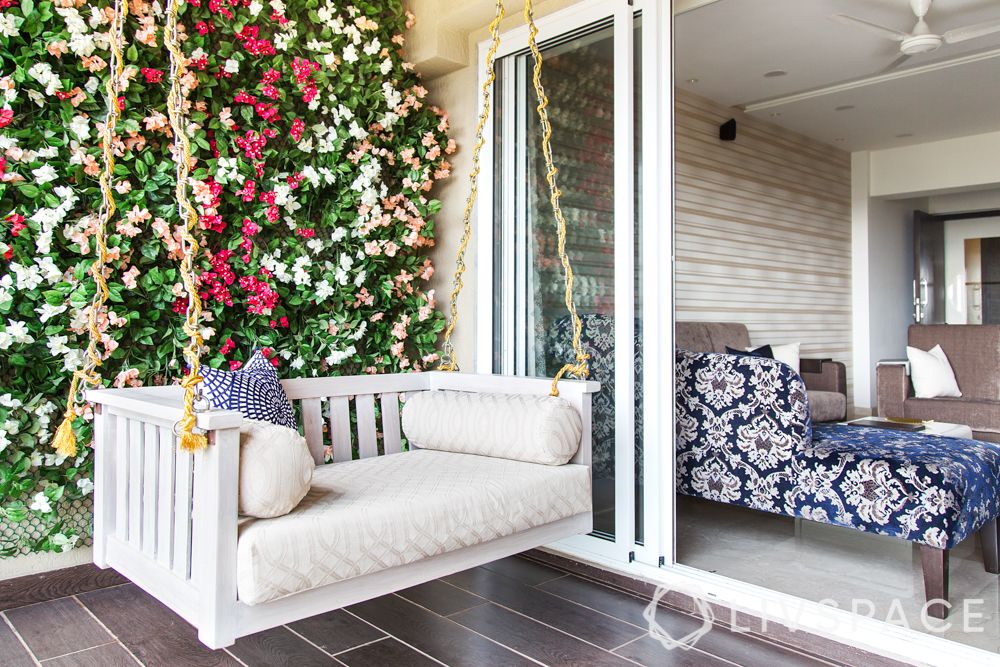 Are you one of those people who eats, sleeps and studies/works on the swing? Then you need a comfortable one like this. It has enough room to sit or lounge comfortably. With the wooden back and the bolster cushions, this is a spot you wouldn't want to move from. And the strong iron chain ensures that it can support your weight over a long period of time.

#4: The Couple Goals Balcony Swing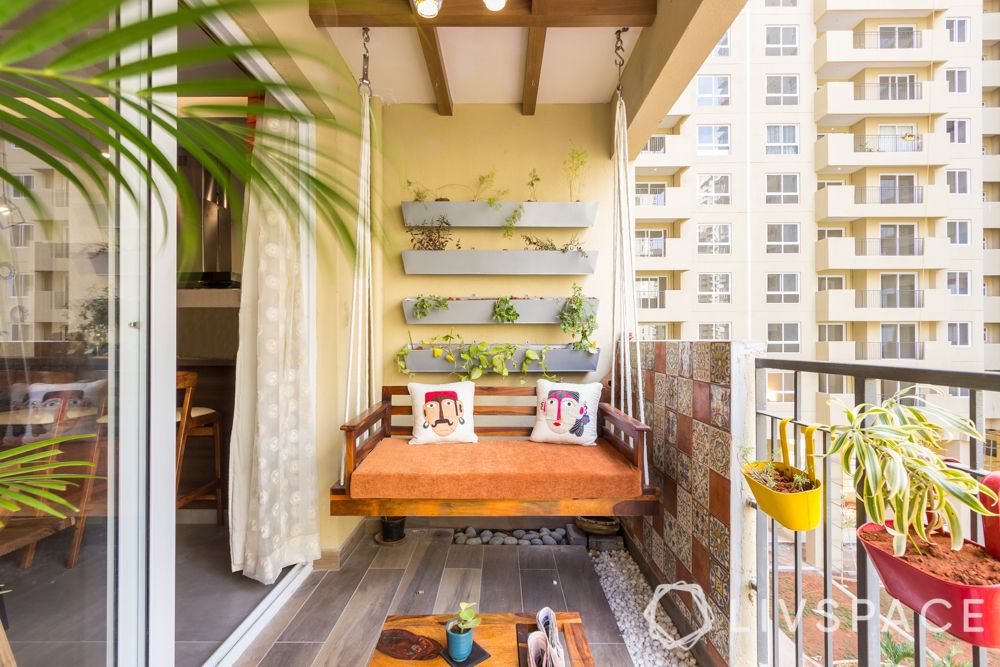 Not getting enough "we-time" and intimacy with your partner? Here's what you can do. Get yourself a swing like this one, just enough for two people to sit and have some quality time. Make sure it's not too big or you will both be sitting in your own corners! It should be just right to make you sit tight. Moreover, the 'his' and 'her' cushions are a dead giveaway setting the context for romance right away.
#5: The Budget Balcony Swing for Your Tea/Coffee Time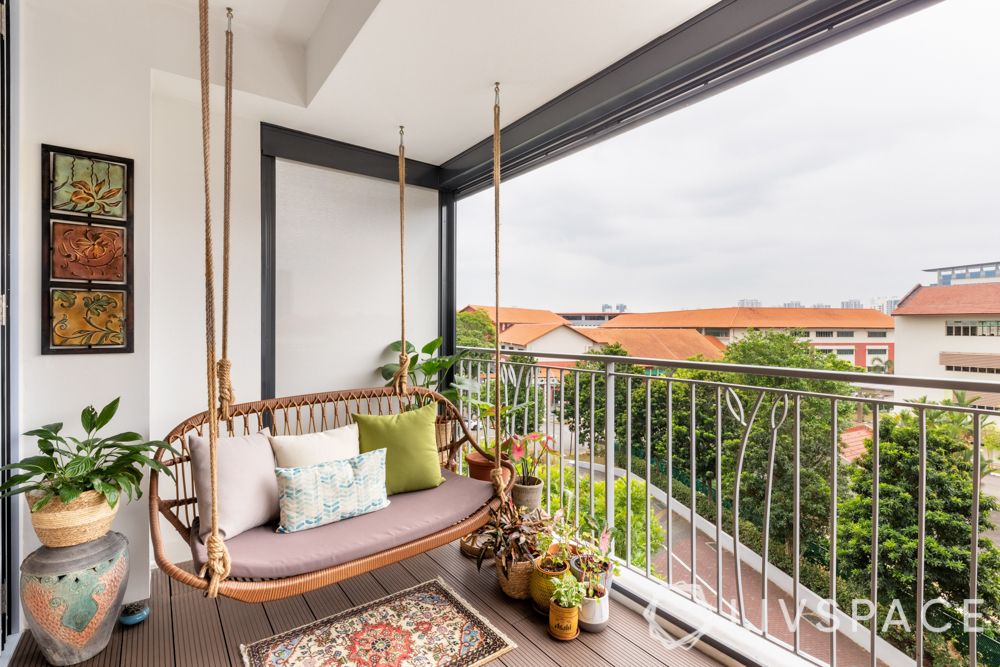 Are you looking for an affordable option that will serve the purpose but not be a serious investment for you? You should consider the cane swing that is less expensive than wooden or metal swings. It is less durable but lasts long enough with light use. You can swing on it during your morning and evening cuppa to look out into your neighbourhood. That's literally the only outdoor time we are getting these days.
If you enjoyed browsing through our swing designs for the balcony, also look at swings we have installed in other parts of the house here.
We love hearing from you! Write to us with your comments and suggestions at editor@livspace.com