Designing the interiors of your home is a one-time investment—you cannot make compromises on functionality, comfort and style! However, as the COVID-19 pandemic leaves the economy scarred, it becomes essential to strike a balance between cost and style. Not to mention, the specific requirements that need to be met. If you have children or elderly family members at home, your home needs to be safe for them. If you have a busy lifestyle you would probably need a low-maintenance home. But how do you accommodate everything on a budget?
We at Livspace understand the importance of adapting to changing times and scenarios. That's why we rounded-up our favourite budget home interiors! Check them out and get lessons on how to make the most of your budget.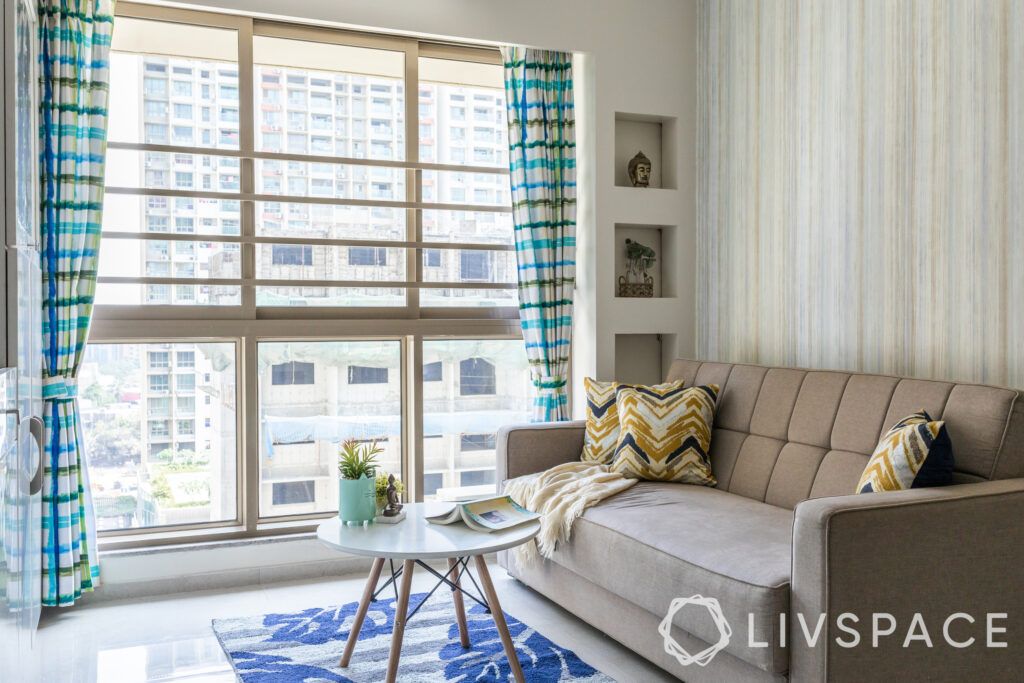 Who livs here: Prafful Jain with his wife Aksha Jain and their daughter Prashi
Location: Vasant Oasis, Andheri East, Mumbai
Flat Configuration: 1 bedroom, living room, dining room and kitchen
Size of Home: 425 sq ft approximately
Livspace Service: Full home design excluding kitchen
Budget Meter: ₹₹₹₹₹
Time Taken: 2 months
Prafful and Aksha had ample concerns while getting the interiors for their new home designed—the compact home had to be child-friendly with ample storage, yet within budget. Luckily, their designer Khushboo Mittal wasn't easily daunted. She provided wardrobes with lofts in the bedroom as well as a wall-to-wall storage unit in the living room. Since laminate is an extremely affordable finish, she topped up all their wardrobes and storage units with it.
In addition, Khushboo didn't want the space to look devoid of colour. So she introduced pops of colour at strategic places – like the yellow back-painted etched glass panel in the master bedroom. Though back-painted etched glass can be expensive, using only a strip as a panel above the bed made it an affordable indulgence.
Cost-saving Lesson: Since this was a budget home, the economic laminate finishes were Khushboo's go-to option. In the case of more expensive materials like back-painted glass, it's a good idea to use them minimally to add to the aesthetic appeal.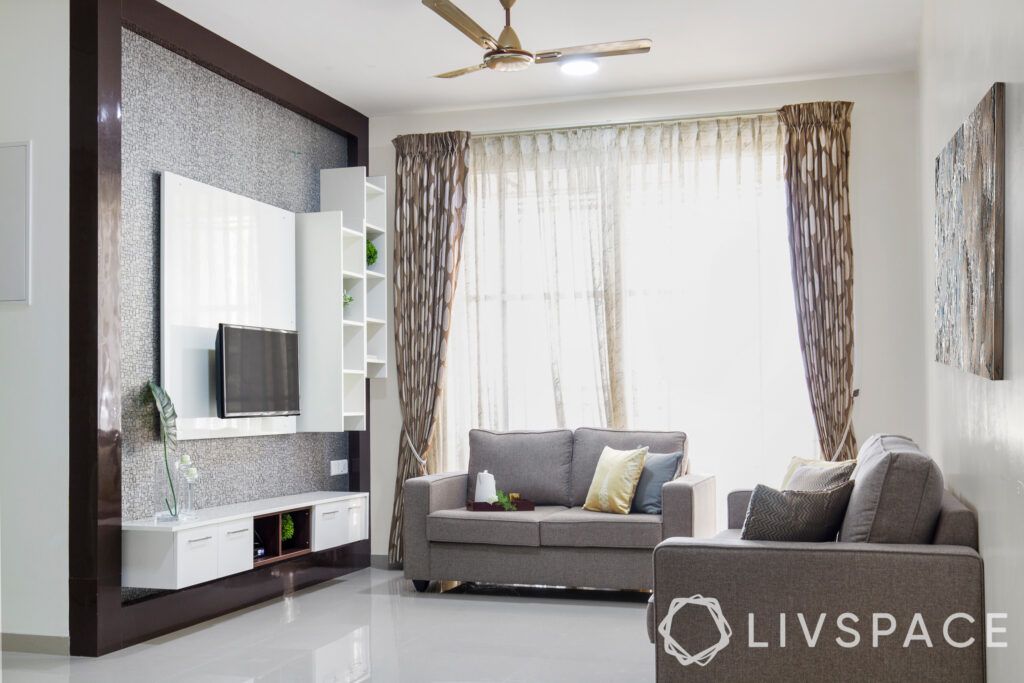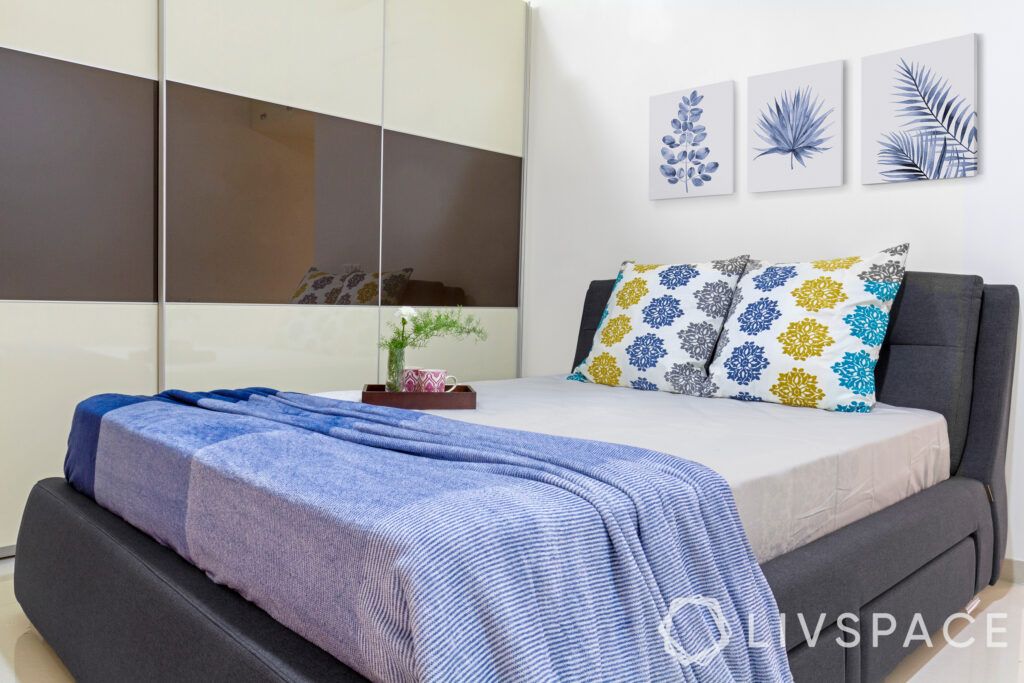 Who livs here: Priya with Suresh and their daughter
Location: House of Hiranandani Tiana, Egattur, Chennai
Flat Configuration: 2 bedrooms, living room, pooja room, dining room, kitchen and balcony
Size of Home: 960 sq ft approximately
Livspace Service: Full Home Design
Budget Meter: ₹₹₹₹₹
Time Taken: 45 days
Livspace designer Meljin Mano tells us that Priya and Suresh were very clear about what they wanted in their home—modern furniture, neutral colours and ample storage space. The interiors had to be safe for their toddler daughter too. So Meljin gave them a minimal design, which resulted in the family only indulging in essential furniture and decor. This way it's easy on the pocket too! He also opted out of bulky storage options to avoid extra costs, like a compact wall-mounted TV unit that tucks loose wires out of sight, with budget-friendly laminate display shelves.
Also, instead of a traditional wooden bed, Meljin suggested that the family choose for an upholstered bed that fit their budget completely. What's more, it's safer for their daughter and comes with additional storage space, meeting their requirements to the T. To complete the bedroom, he gave the family an affordable high-gloss laminate wardrobe to store their essentials.
Cost-saving Lesson: The easiest way to stick to a budget is to choose a minimal design. This way you only spend only on what you really need and nothing extra. If you like glossy finishes, Meljin suggests picking high-gloss laminate instead of the more expensive acrylic finishes for your home. It's also a lot more economical than other finishes!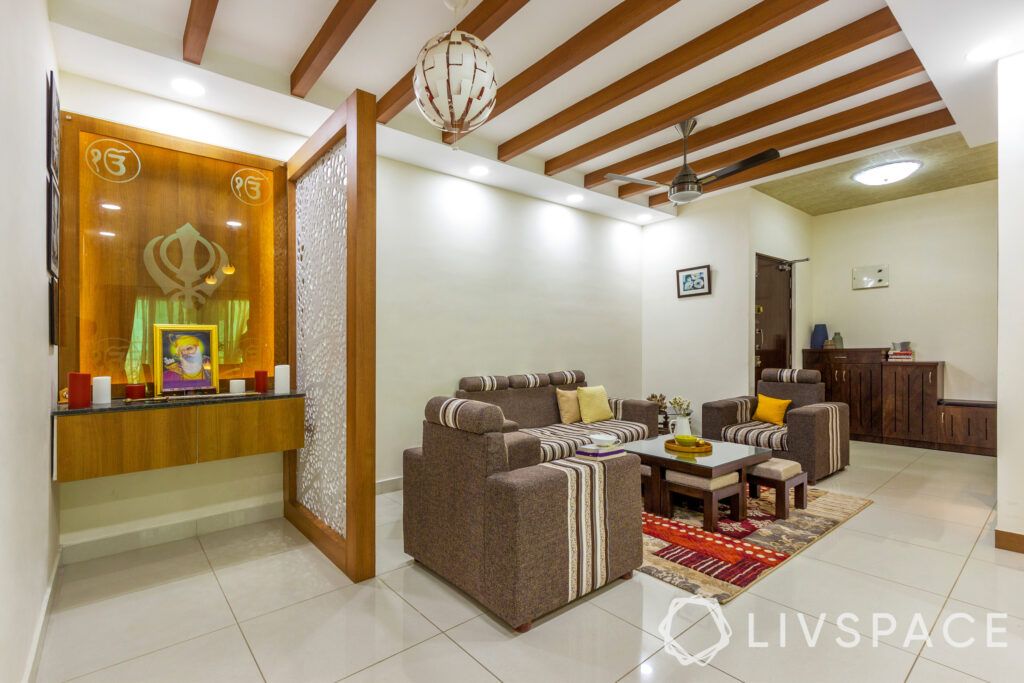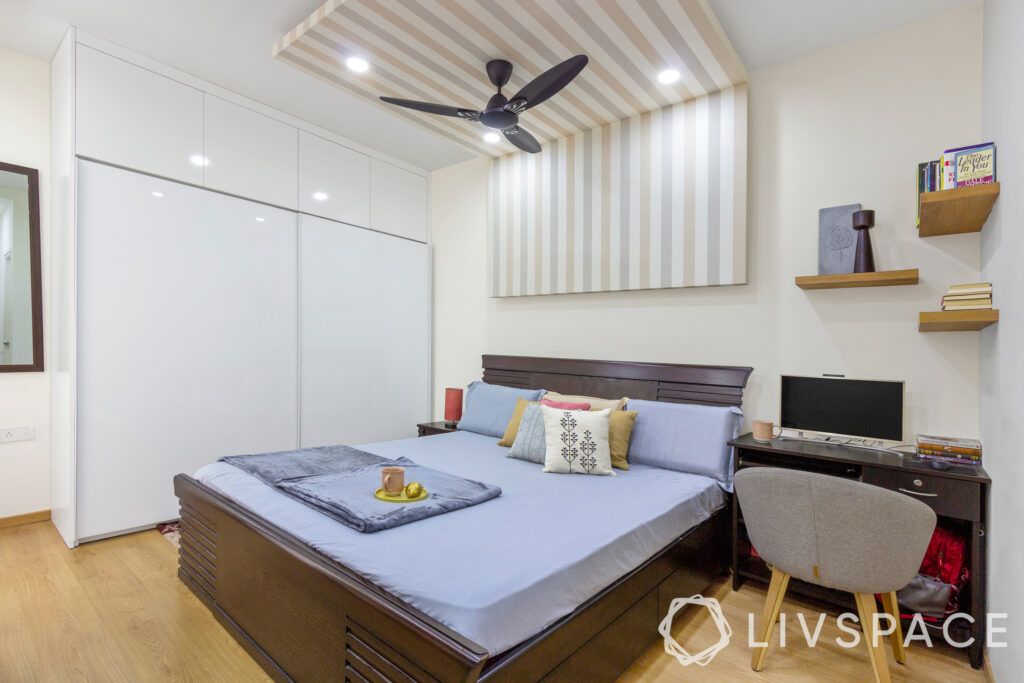 Who livs here: Mansukhvinder, his wife and their daughter
Location: Brigade Wisteria, Kanakapura, Bengaluru
Size of Home: 2BHK spanning 1,200 sq ft approx.
Flat Configuration: 2 bedrooms, living room, dining room and kitchen
Livspace Service: Full Home Design
Budget Meter: ₹₹₹₹₹
Time Taken: 2 months
For Mansukhvinder and family, comfort and ambience are everything. Since they wanted an earthy design that was high on style and dressed with pretty ceilings, Akshay Jain gave them rafters in the living room, but with a twist. Instead of the traditionally used veneer, which can be expensive, Akshay gave the family rafters with wooden laminate finishes to make the design pocket-friendly. Similarly, he gave them a partial false ceiling with strips of wallpaper in the master bedroom, instead of an elaborate and expensive option.
As a huge believer in the power of the right paint, Akshay chose traditionally-loved colours for each space, shielding the family from more expensive wall treatments. And in place of expensive full-blown display shelves, he provided niches and ledges to show off curios and keep the essentials at hand!
Cost-saving Lesson: If you want fancy false ceilings on a budget, choose your designs judiciously. Akshay recommends a basic false ceiling with lights in most rooms. People also tend to splurge on display shelves – consider using a mixture of wall hangings, niches and ledges like this home instead, which can be more economical.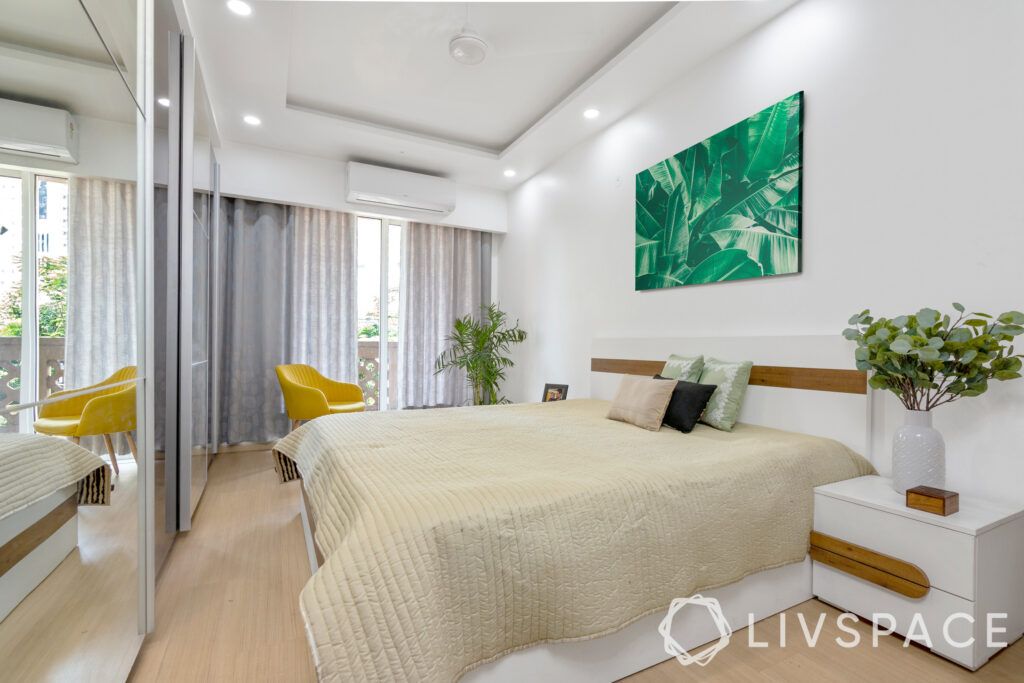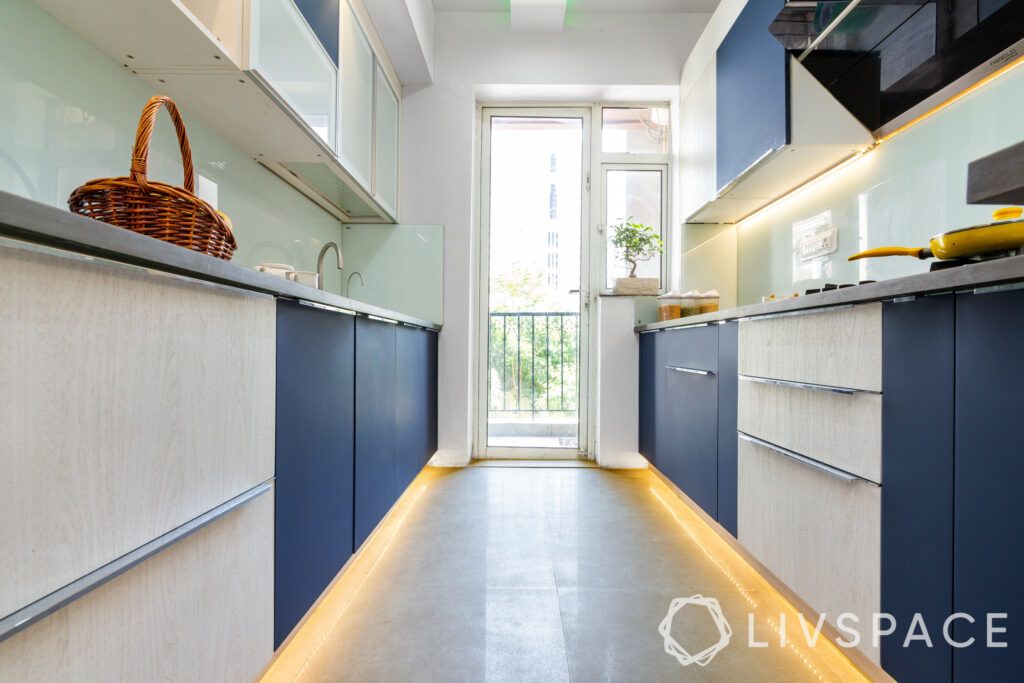 Who livs here: Nitin and Ankita Verma with their son
Location: DLF New Town Heights, Gurgaon
Flat Configuration: 3 bedrooms, living room, dining room and kitchen
Size of Home: 1,800 sq ft approximately
Livspace Service: Full home design
Budget Meter: ₹₹₹₹₹
Time Taken: 3 months
Nitin and Ankita wanted their home to have a "wow" factor, but stay within budget. They were on the lookout for jazzy false ceilings, but Sushant Jain steered them towards semi-jazzy designs that fit into their budget better. This saved a small fortune – both on intricate false ceilings and several light fixtures.
In keeping with their desire for bold yet minimal interiors, Sushant selected each element for the family carefully. From the yellow accent chair in the bedroom to profile lighting under the kitchen cabinets, each feature in this home is highly functional while being budget-friendly and classy. Sushant also chose the colours carefully – glossy black and teal blue. These amp up the space without adding to the budget at all. A basic false ceiling, bright colours and the right lighting in the right places makes this interior design on a budget as pretty as it is functional!
Cost-saving Lesson: Sushant suggests minimal, utilitarian yet classy fixtures that fit well into the budget for your home. In keeping with the essentials-only layout, you can also pick bold and intriguing colours to make the home look brighter without costing more!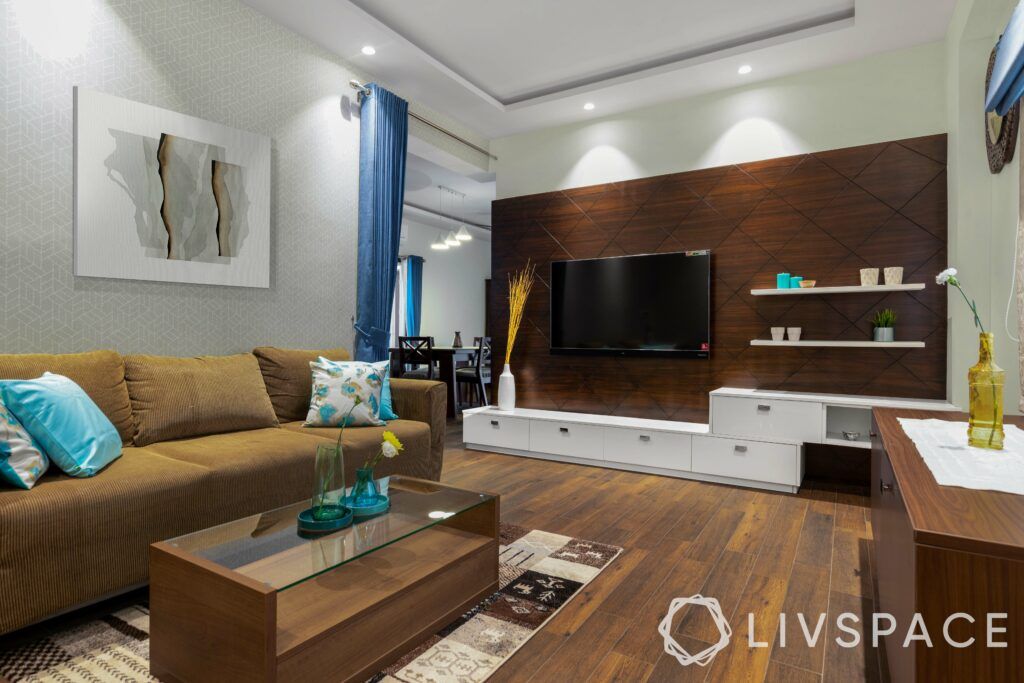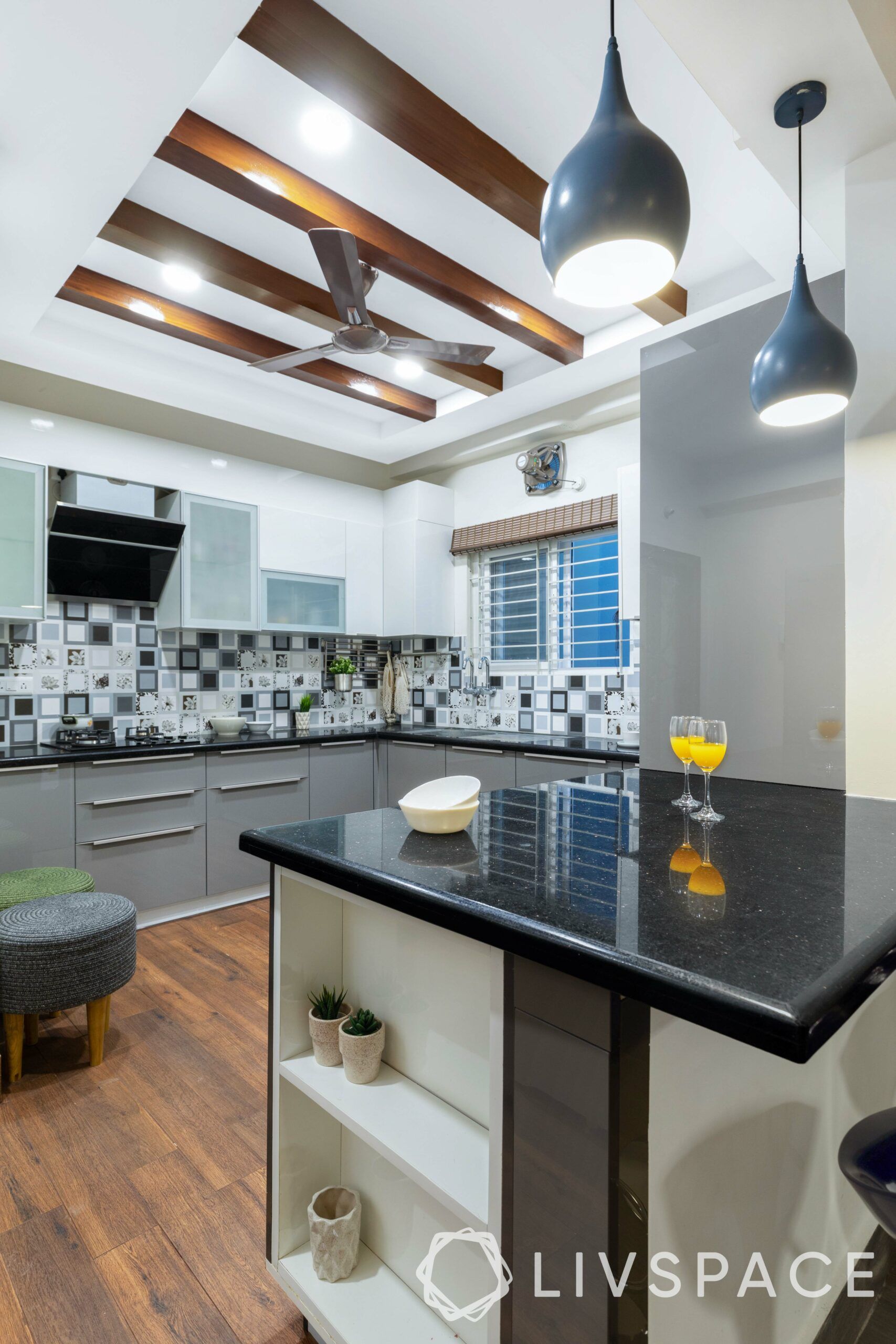 Who livs here: Srikanth with his wife and two daughters
Location: Udaya Adithi Apartments, Gandhinagar, Hyderabad
Flat Configuration: 3 bedrooms, living room, dining room and kitchen
Size of Home: 1,400 sq ft approximately
Livspace Service: Full home design
Budget Meter: ₹₹₹₹₹
Time Taken: 3 months
Since Srikanth and family wanted wooden flooring in their home, Livspace designer Shikha Agarwal looked for designs and furnishings that would complement the same. She gave them vitrified wood-finish tiles for their floor to keep things within budget instead of picking hardwood, the common expensive option. Also, she ensured she used veneer minimally and just on the essentials throughout the home to stay within budget.
In the kitchen, Shikha considered several methods of bringing in woody elements before zeroing on wooden rafters for the ceiling Instead of veneer panels over them, she used painted rafters to mimic wood to keep the space budget-friendly.
Cost-saving Lesson: If you love wooden elements but are worried about the cost, the trick is to get the next best thing. Consider using vitrified wood-finish tiles instead of getting expensive hardwood flooring. You can always consider using pocket-friendly finishes or paints that mimic the colour and texture of wood too.
If you liked reading about interior design on a budget, you might also enjoy: The Best of Budget Homes in 2019.
Send in your comments and suggestions to editor@livspace.com.