When it comes to small kitchen designs in Kochi, Livspace understands the importance of making it storage intensive and practical, while still within a reasonable cost. Made under a ₹3 lakh budget, this small interior design in Kochi has it all. Also, Mr. Joseph made this small kitchen design in Kochi for a purpose – a practical gift to his wife. Since Mr. Joseph frequently travels for work, he and his family felt the need to get a modular kitchen design for their home in Kochi.
---
Who Livs here: Joseph Philip with his wife and three kids 
Location: Puthuvype Ochanthuruth, Kochi 
Size of kitchen: 90 sq. ft.
Design team: Interior designer Najumi Anees
Livspace service: Kitchen design
Budget: ₹₹₹
---
Brief

To create a kitchen that is functional and yet maintains a high-end glam aesthetic

What we loved

The clever use of muted beige hues to balance the brightness of the red countertop and graphic grey backsplash

Look out for

-The tall unit capable of providing intensive storage
-The handleless finish of the kitchen 

Biggest Indulgence

The acrylic finish that is scratch-resistant and durable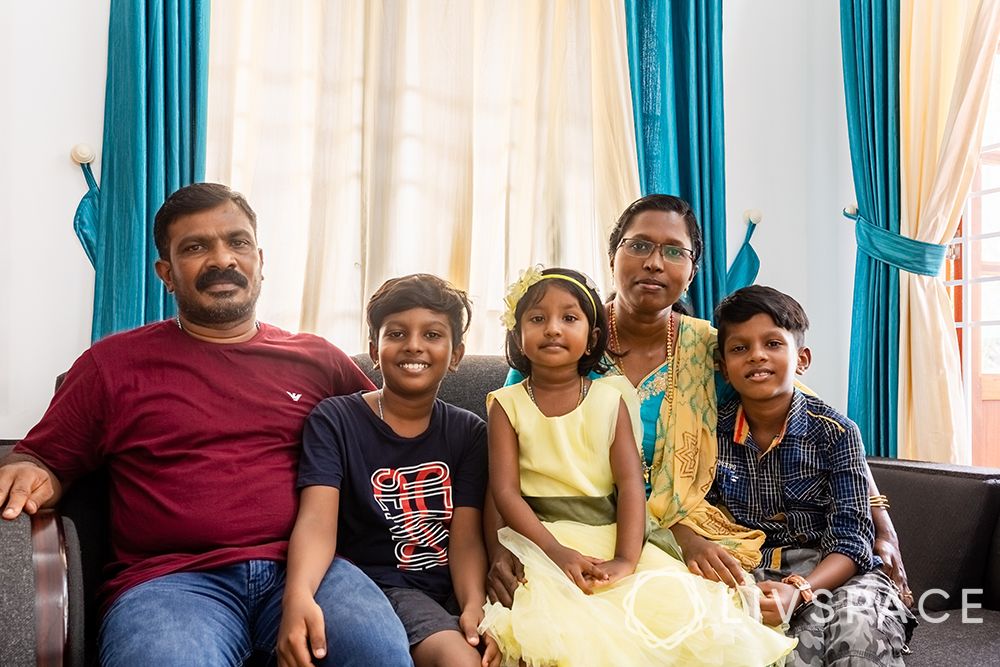 The family approached Livspace with a vision and found it reflected right in the Livspace Experience Centre. So, there stood the kitchen design that they knew would be perfect for their home. Here is how we built a model of the kitchen interior design in Kochi.
Choosing the Perfect Small Kitchen Design in Kochi From the Livspace Experience Centre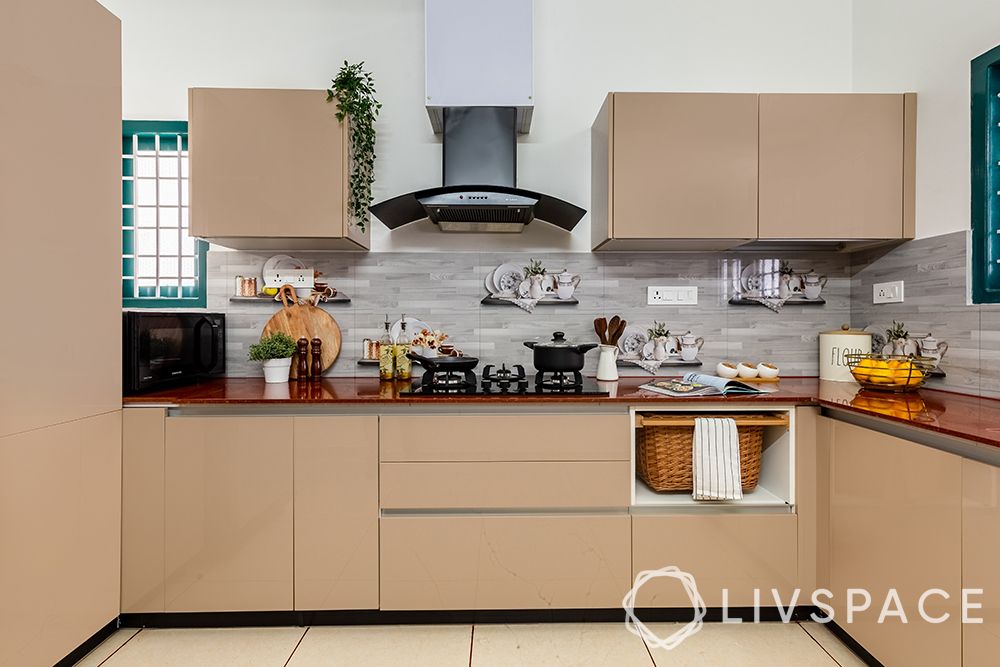 When Livspace designer Najumi Anees finished working on the kitchen, it turned out to be a complete stunner.  Simple and practical, this modular kitchen design in Kochi is beautiful to look at. The family wanted a simple and efficient kitchen equipped with modern amenities.
Thus, Najumi stuck to a basic U-shaped layout and extended it with a tall unit. She made the extensions to increase the storage capacity of this small kitchen design in Kochi to fit the needs of the growing family. This kitchen interior design Kochi is bathed in beiges to balance out the sharp red colour of the countertop. Don't miss the potted plants that add a breath of fresh air to the space!
Adding Custom Cabinets to the Small Kitchen Interior Design in Kochi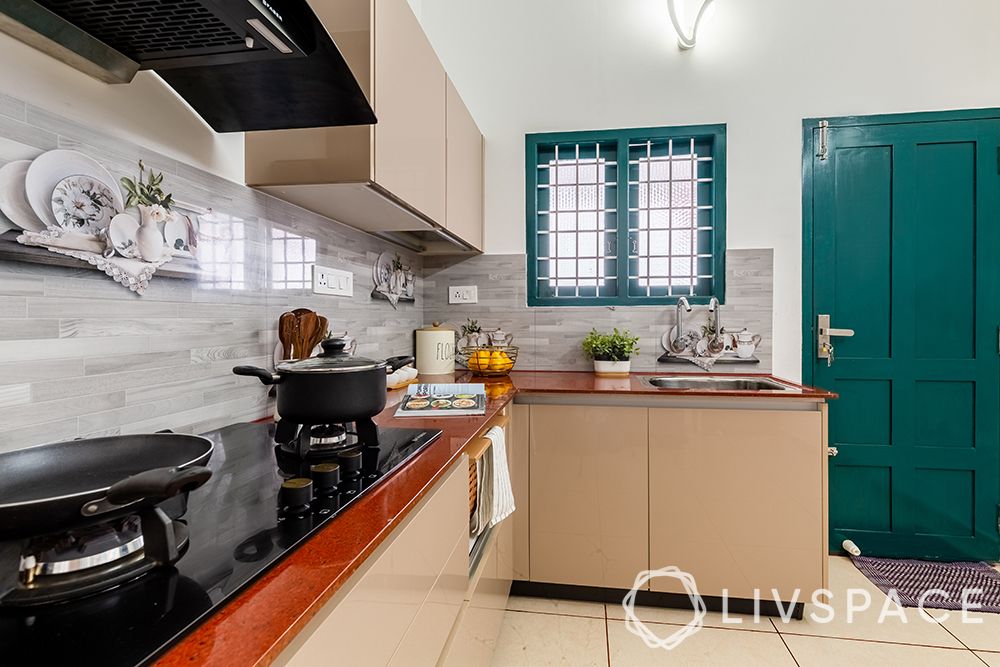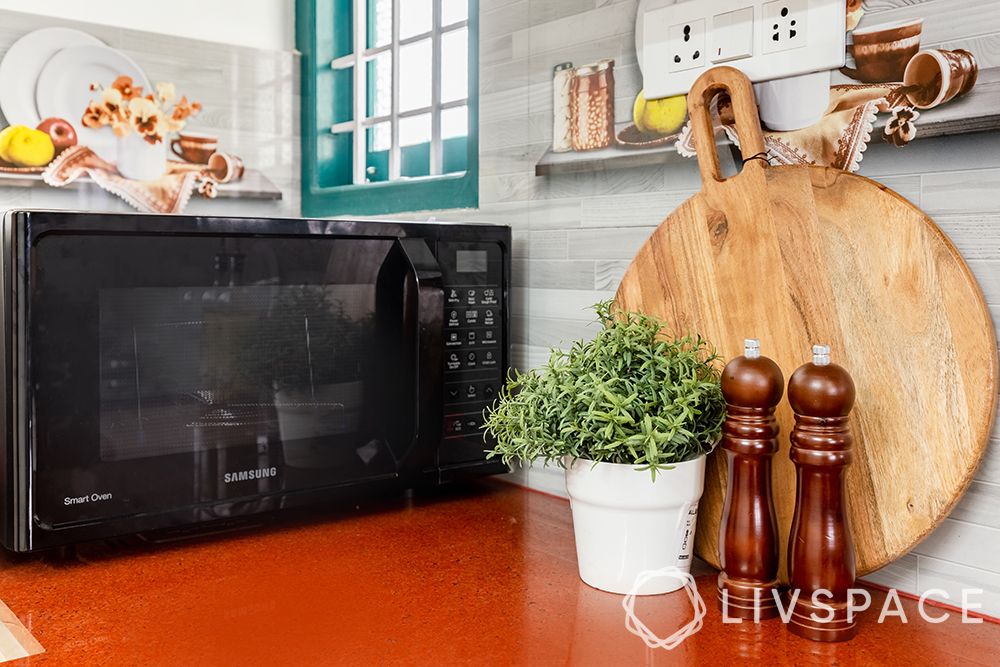 Since the Joseph family approached Livspace while their house was still under construction, Najumi was able to guide them on structural changes as well. One thing she suggested was to change the position of the kitchen windows. This was to make the kitchen look well-adjusted. You can spot the two windows carefully aligned with the modular kitchen design in Kochi. One window is over the sink, while the other one, tucked neatly behind the tall unit, lights up the corner aptly.
Working Around the Challenges of This Kitchen Interior Design, Kochi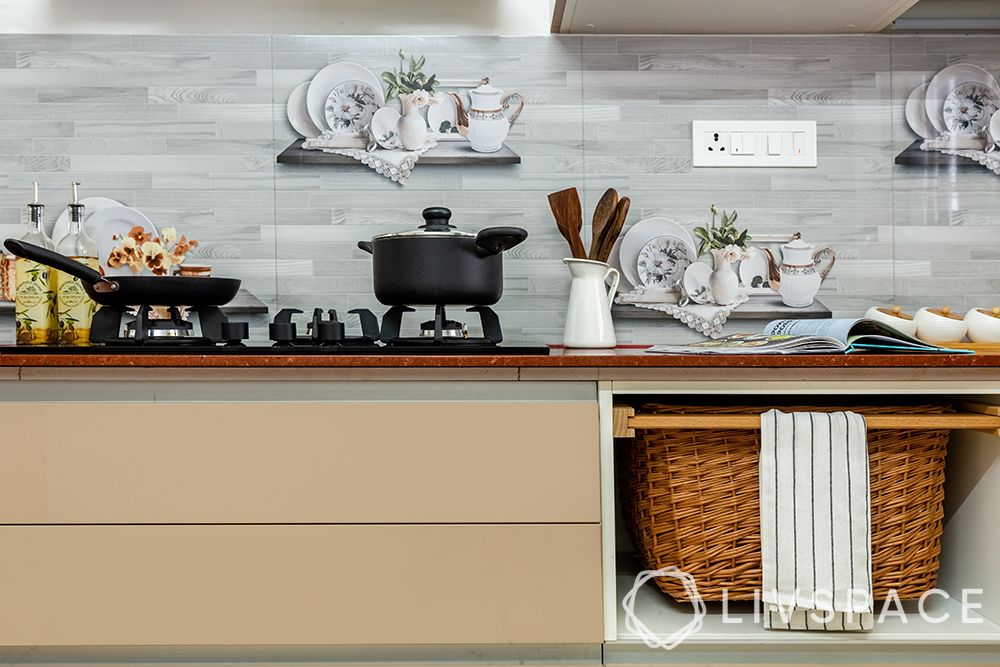 Livspace designer Najumi recalls that when the Josephs approached her, they already had a kitchen countertop and a grey backsplash. They wanted her to work around these existing fixtures as they have already been installed. Thus, Najumi decided to use the neutral beige colour to balance out the brightness. The decision to use a neutral colour took a lot of back and forth. However, the end result looks absolutely stunning!
Here Are the Details of This Small Kitchen Design in Kochi Worth Mentioning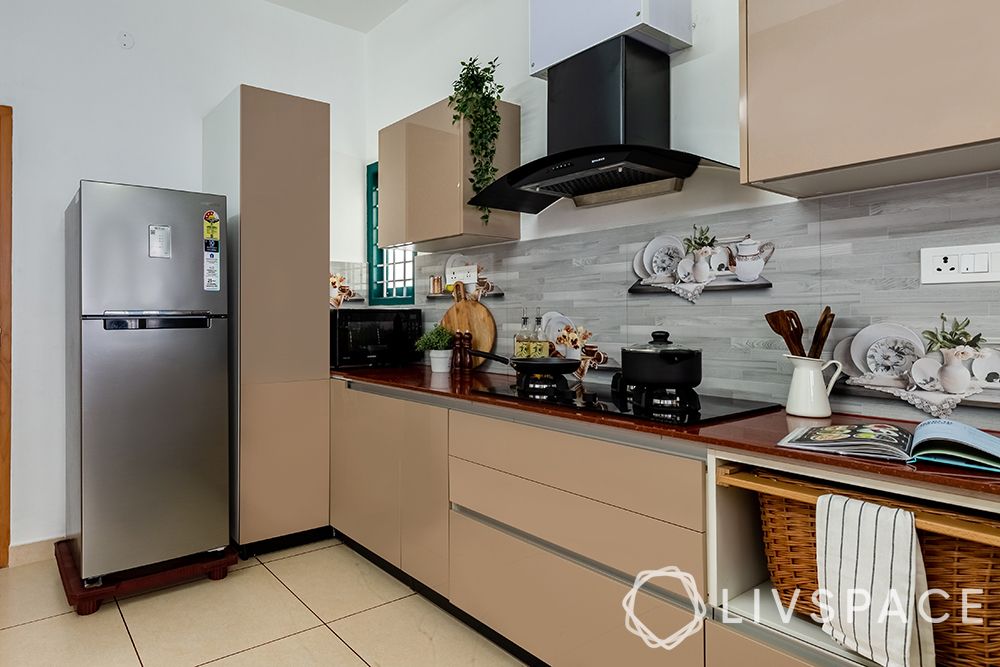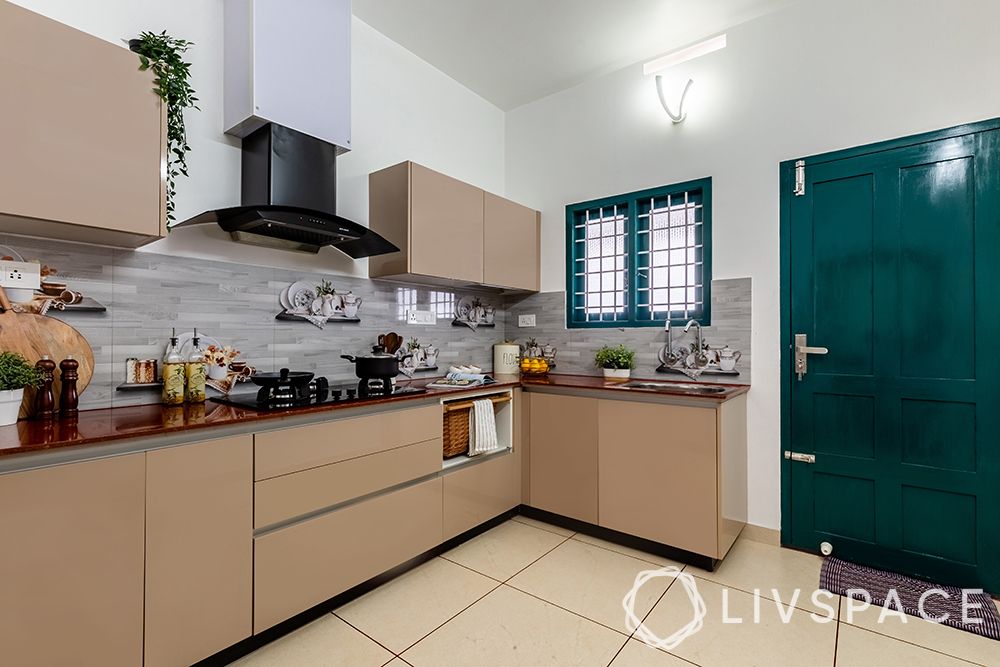 The small kitchen interior design in Kochi has been finished with acrylic, a material that adds a subtle glaze to the space. Given that there are three kids in the house, it also serves a practical purpose. It is durable and scratch-resistant, making it child-friendly. Another thing that stands out about this kitchen is the fact that there are no handles on the cabinet fronts. This makes the compact kitchen look sleek and refined.
Needless to say, the Josephs are thrilled with their new kitchen as you can see five happy smiling faces. It is always a joy to deliver kitchens that our customers love. Need Kitchen Design Ideas? This Modular Kitchen in Chennai Will Inspire You!
How Can Livspace Help You? 
We hope you found our ideas useful! If you want beautiful interiors for your home, then look no further. Book an online consultation with Livspace today. Have any thoughts or suggestions you'd like to share with us? We'd love to hear you out. Write to us at editor@livspace.com.