Washing clothes is a weekend chore in many Indian homes. And with washing machines becoming more and more common, they often have a dedicated space in  the layout in our home plans. Thus, it becomes necessary to look at a washing room design so that it fits in seamlessly within your space and your laundry can be done in a streamlined manner. Here is a simple guide on how to manage, organise and optimally use your laundry room design.
What is a Washing Room?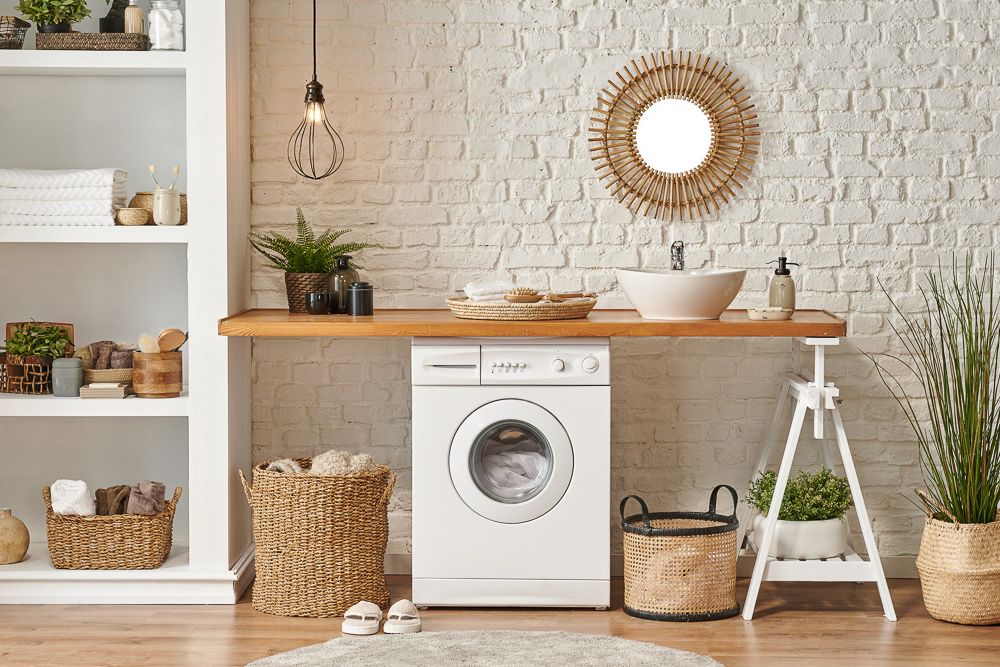 Washing rooms can also be known as laundry rooms or utility rooms. The laundry room design is recognised as a space where you keep your washing machine. They're all designed to serve an important function — to provide extra storage space, to fit our washing machines and to provide a second washing zone.
Why Do You Need a Laundry Room at Home?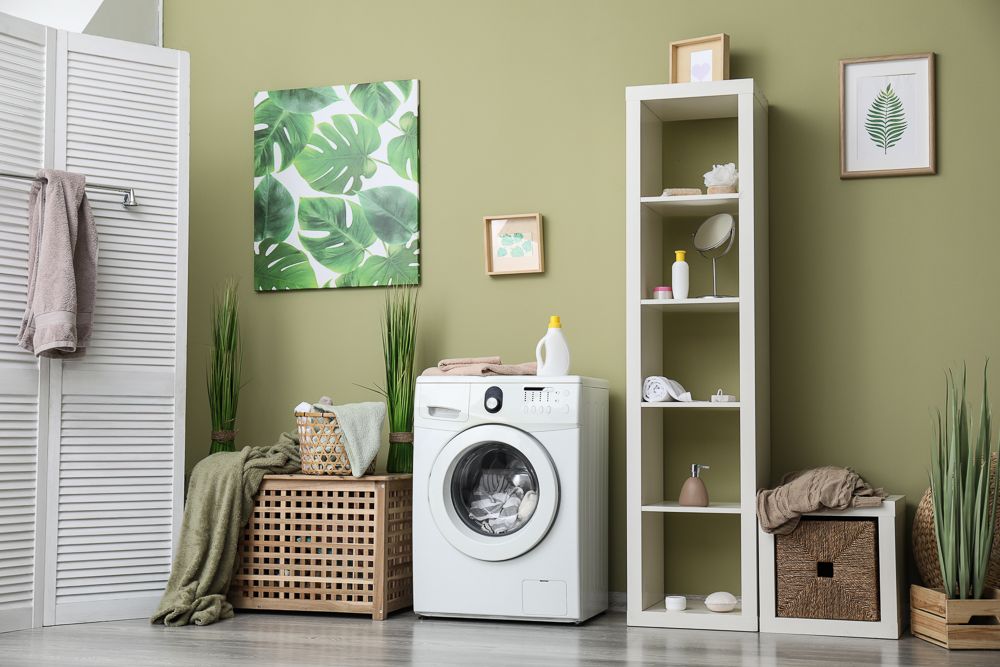 Now the question is, do you really need a washing room design in your home? Demarcating the space as a second washing zone helps manage the space better. It can also help you decide on crucial laundry room ideas, such as what type of flooring you would want in the room to make it more child- or elder-friendly.
How Can You Fit in a Washing Room Design in Your Home?
Fitting in an extra washing room may sound like a hassle, especially when you are dealing with a compact space. Don't worry, we have small laundry room ideas too! In fact, given below is an assorted list in ascending order on where you can make your laundry room.
#1: A Separate Laundry Room Design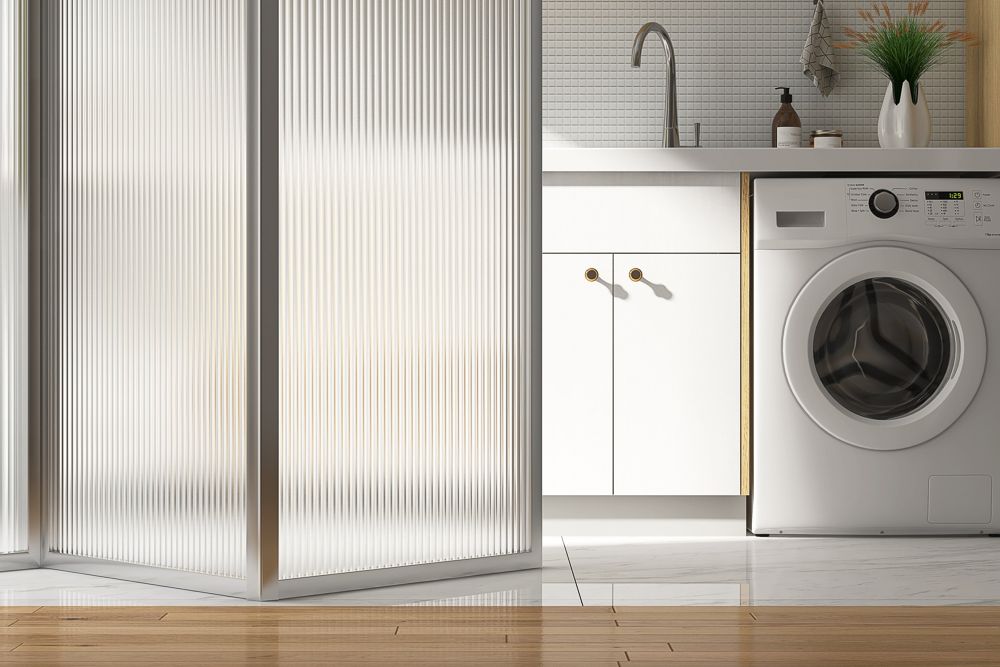 Having a separate utility room serves well in the long run as you confine your clutter to one room. All you need is a compact space to fit in your washing machine and storage to hold your detergent, soap and other essentials for doing laundry. Make sure to figure out the drainage so it doesn't create a hassle afterwards.
#2: Fit the Washing Machine in the Kitchen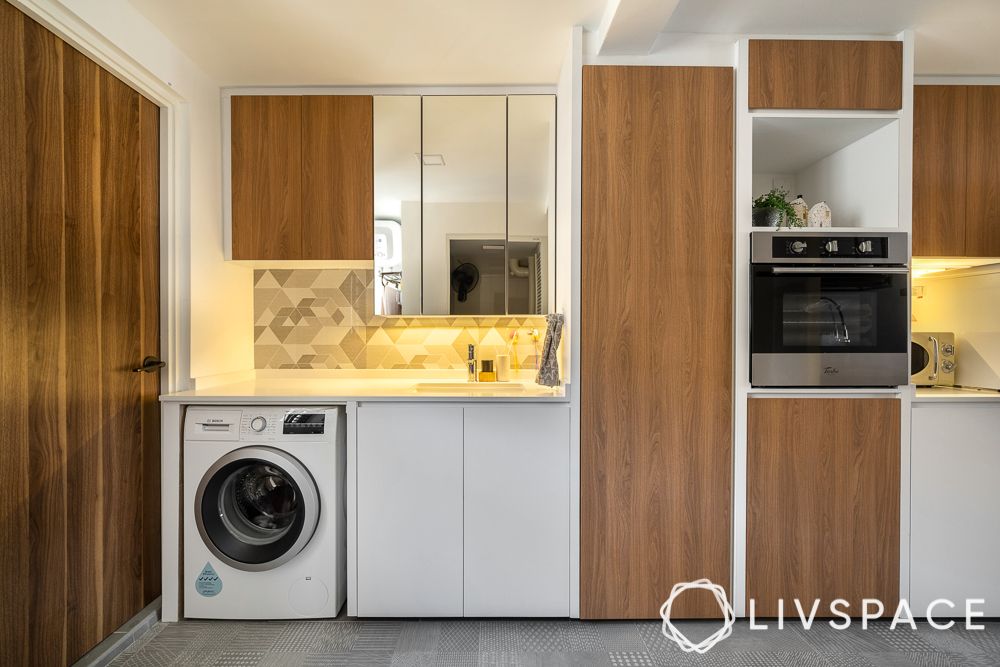 This comes from the book of small laundry room design ideas. Your kitchen can count as a space to fit in your washing room design because it offers you two advantages. First, it can be segregated into the wet zone of the kitchen. Second, it is easier to find a drainage system in the kitchen. Thus, if you plan it accordingly, your laundry room design can easily fit into the kitchen.
#3: Carve Out Space in the Bathroom
Among other small laundry room ideas is utilising the bathroom as a space for a good laundry room design. It has everything you need — a good drainage system, an efficient pipe system for water supply and complete convenience. How many times have you hopped into your shower or bathroom and wished to wash your clothes instantly? A washing machine in the bathroom would definitely be useful in that scenario.
#4: Laundry Room Design Ideas for Balconies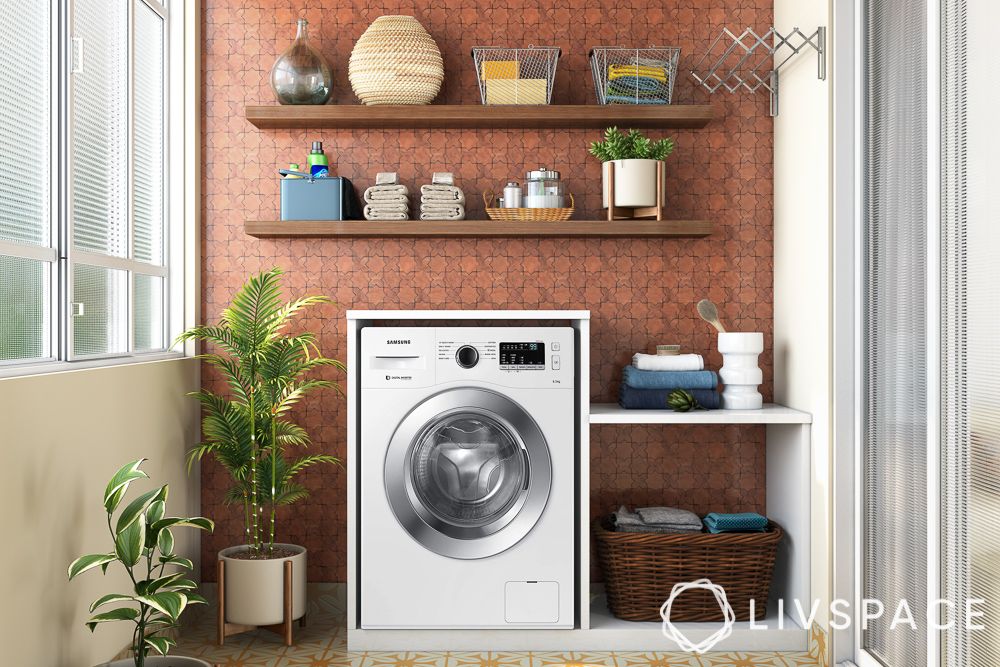 When you have no space, one of the small laundry room ideas suggests using your balcony as a washing room as well. Most balconies have efficient drainage systems that can be easily used. However, you need to plan your washing room design in such a way that it shields your washing machine from rain damage.
#5: Accommodate a Washing Room Design in an Awkward Corner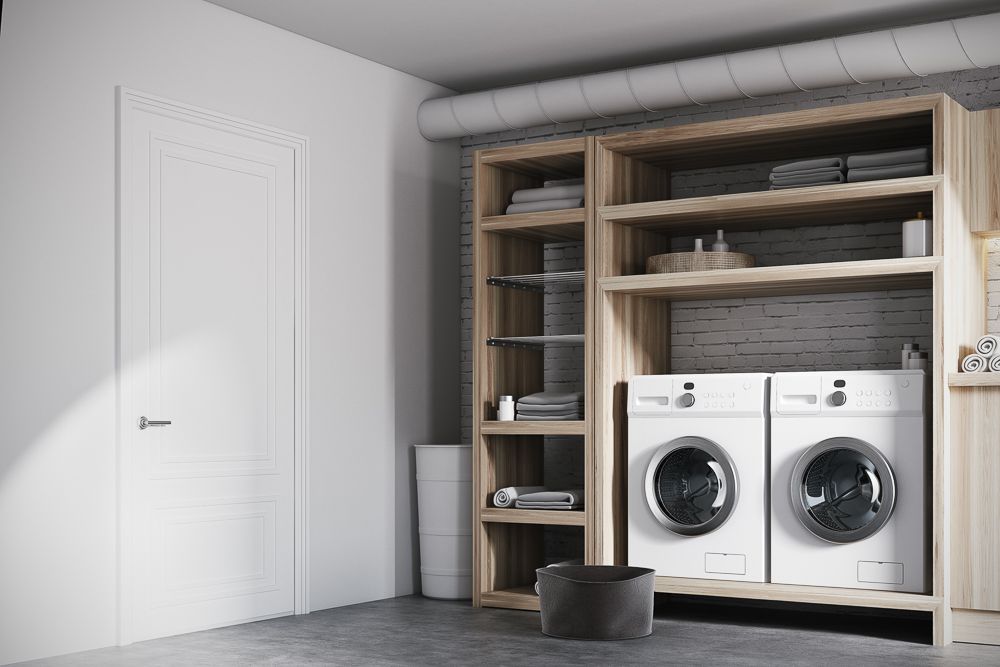 If you are struggling to make any space in your home fit for a laundry room design, pick a niche to install your washing machine. Laundry room design ideas can be applied anywhere, given you can manage efficient water supply and drainage. However, there are some things that need to be kept in mind when designing your washing zone.
What Should You Consider in a Washing Room Design?
Whether you decide to make it in a corner or dedicate a room to it, these three laundry room ideas should be kept in mind.
#1: The Size of Your Washing Room Design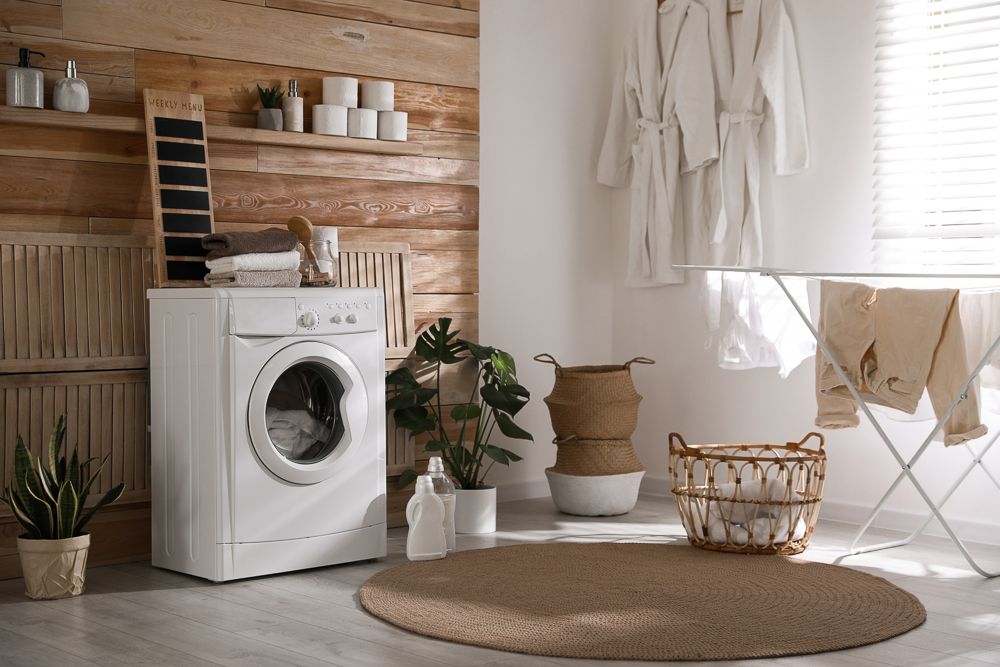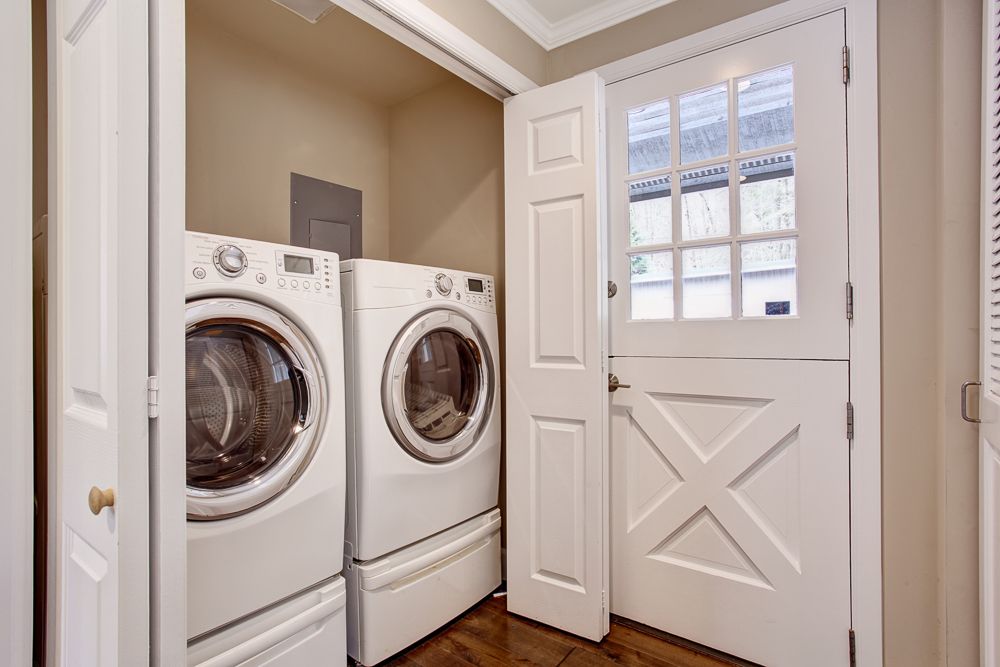 The size of your utility room dictates how to optimise the space in it. For example, if you have a separate room to work with, you can optimise it with more storage options. When that is not the case, try to add baskets or storage options that use vertical space.
#2: Pay Attention to the Flooring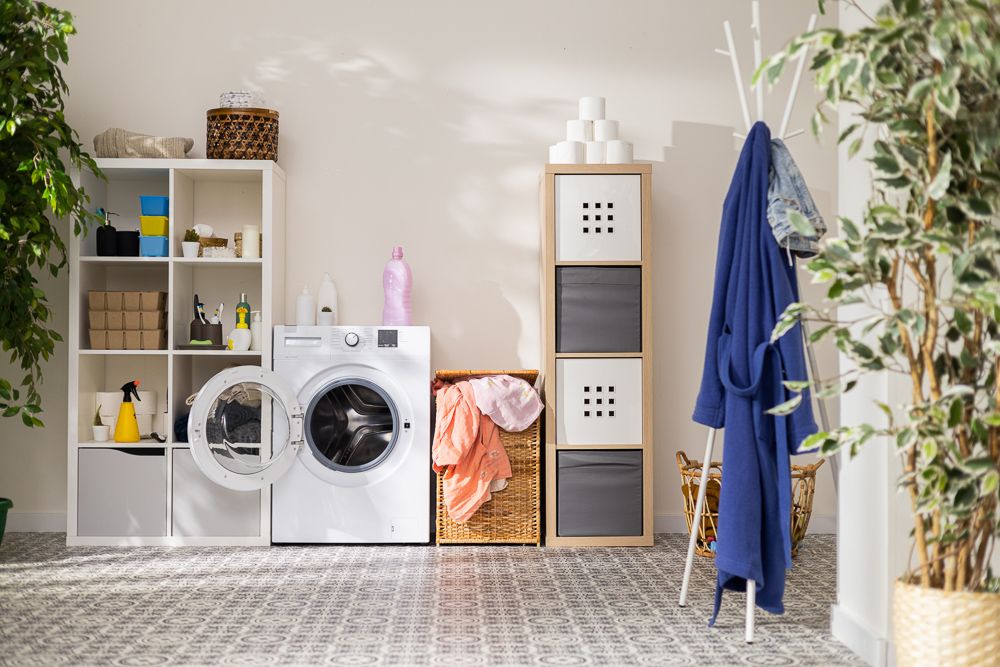 Water spillage is common for washing machines. Thus, make sure that your laundry room design is equipped with anti-skid tiles. This will prevent unwanted accidents and also help you manage the space better.
#3: Say Goodbye to Dingy Lighting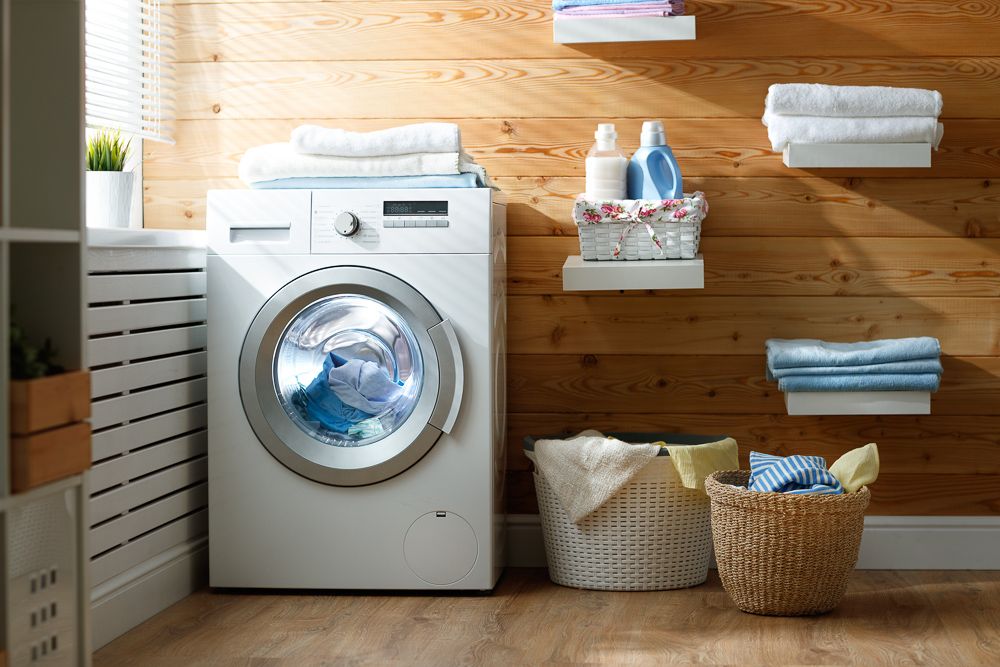 Hollywood may have convinced you that dimly lit washing rooms are the trend but we recommend you do not pay heed to it. White lights are an ideal pick for a laundry room design as it will help you spot colour mixes in the washing machine easily. Thus, make sure you install a bright light in your laundry room design.
We hoped this article helped you understand how to organise your washing room design better. Read How to Buy a Washing Machine That Checks All the Boxes. Want to know how to design or renovate your home optimally? Call us!
How Can Livspace Help You?
We hope you found our ideas useful! If you want beautiful interiors for your home, then look no further. Book an online consultation with Livspace today.