We know how much you love scrolling through Instagram or Pinterest, saving aesthetically-pleasing condo designs as you go. Especially if it's something compact, space-saving or intelligently designed. So you start mentally building your dream condo bit by bit, sometimes over years and by the time you are ready to make the big decision, you've got a picture-perfect illusion of it. These condo interior design ideas are just that!
Here we are showcasing our best condo interior designs in Singapore. Featuring smart designs to customised spaces, we have some amazing ideas for you to steal.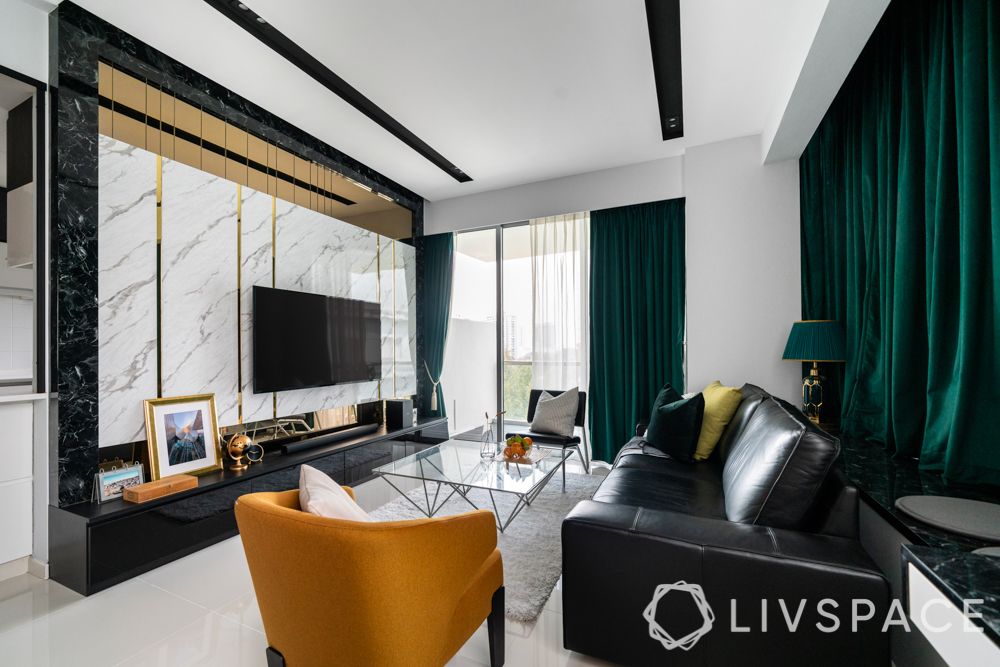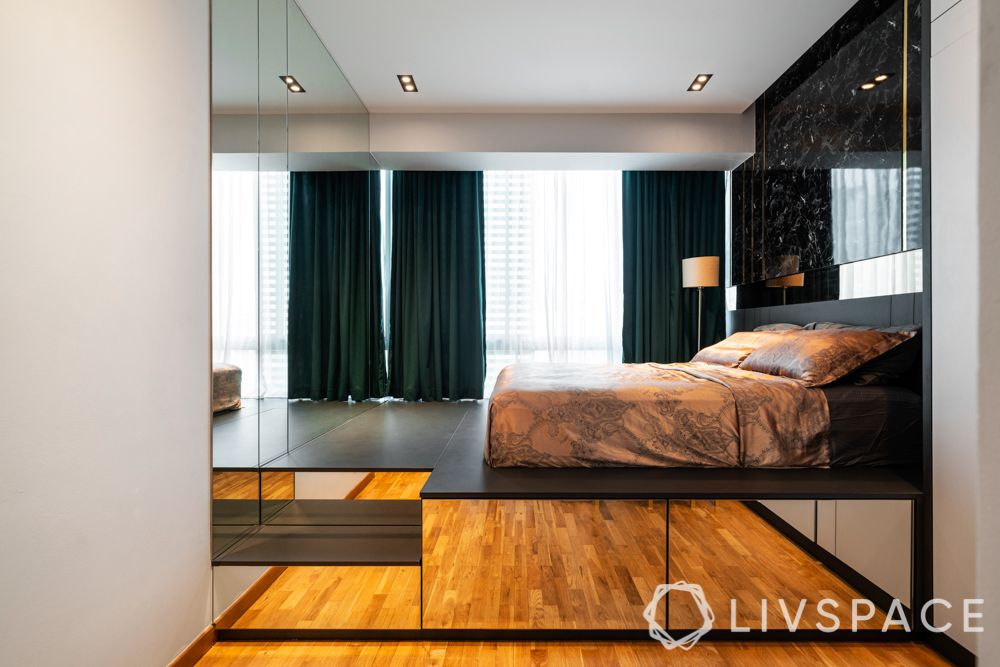 ---
Who livs here: Chua NS and his wife Haniza Hashim
Size of home: Condo spanning 100 sqm
Design team: Interior Designer Noel Tan and Project Manager Kent Loke
Livspace service: Living room, kitchen, master bedroom and study, including design, demolition, masonry, wall finishing, false ceiling, floor polishing, painting, lighting and electrical work
---
The couple living here were eager to get their private condo renovated and since they had rented it out for the past decade, the wear and tear was very obvious. This condo looks expensive but hides some amazing design tricks. You will spot intelligent use of black matched with glossy surfaces across this condo. Abundant use of mirrors is another clever tip that you can pick up from here.
What we loved: The fact that this condo is renovated keeping hotels as the theme, giving this space a luxurious look. And you will not believe that marble-looking surfaces here are actually glossy laminate panels. We also love the custom home office that Noel, their designer, created for the couple!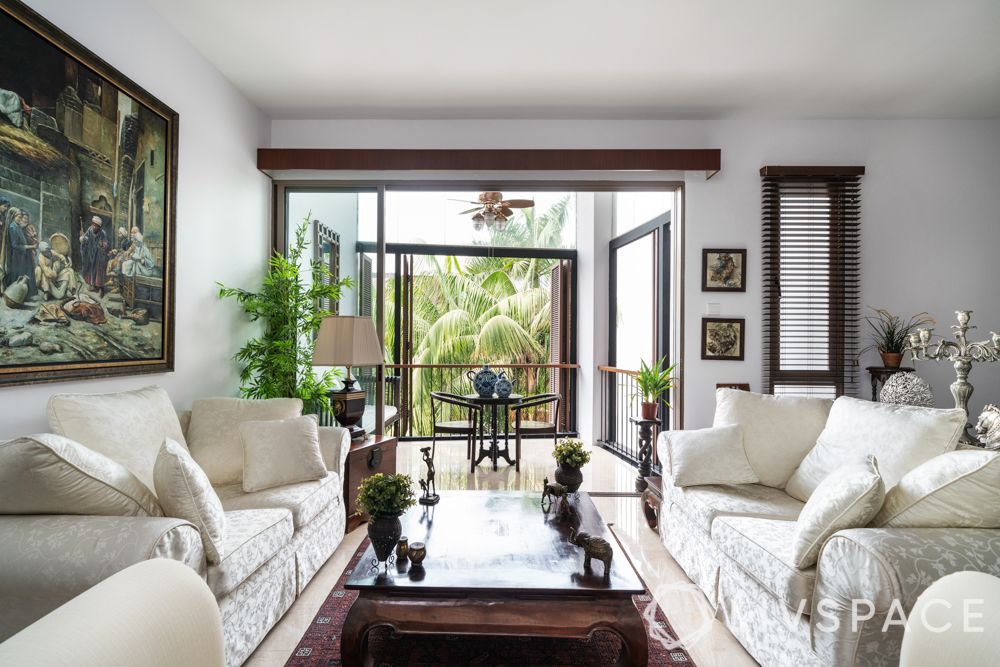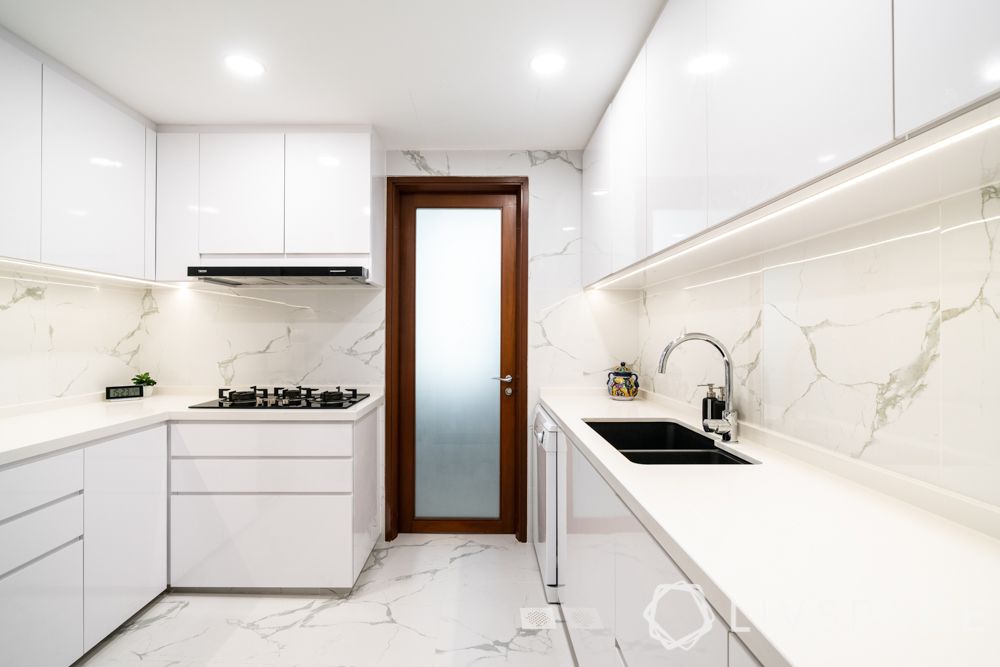 ---
Size of home: 3-room Condo spanning 121 sqm
Design team: Interior Designer Ankita Gupta and Project Manager Andee Ching
Livspace service: Design, demolition, masonry & tiling, false ceiling, wall finishing, electrical, lighting, plumbing, flooring, erection of walls and painting
---
This condo interior design is like a slice of India in Singapore, with warm wooden furniture and contrasting white elements. The couple staying here wanted to stay connected to their roots, hence they opted for using their existing wooden furniture in their new condo interior design. While they wanted an open and welcoming look in their condo, their designer suggested they go for white as the dominant colour, which would act as a great contrast for the solid wood furniture. This home also flaunts multiple paintings and traditional, intricately designed furniture in every nook and corner.
What we loved: We absolutely love the open and breezy layout of this condo that flaunts wooden furniture and low maintenance interiors. We simply adore the all-white kitchen with marble floor tiles. Do not miss the glossy laminates used everywhere!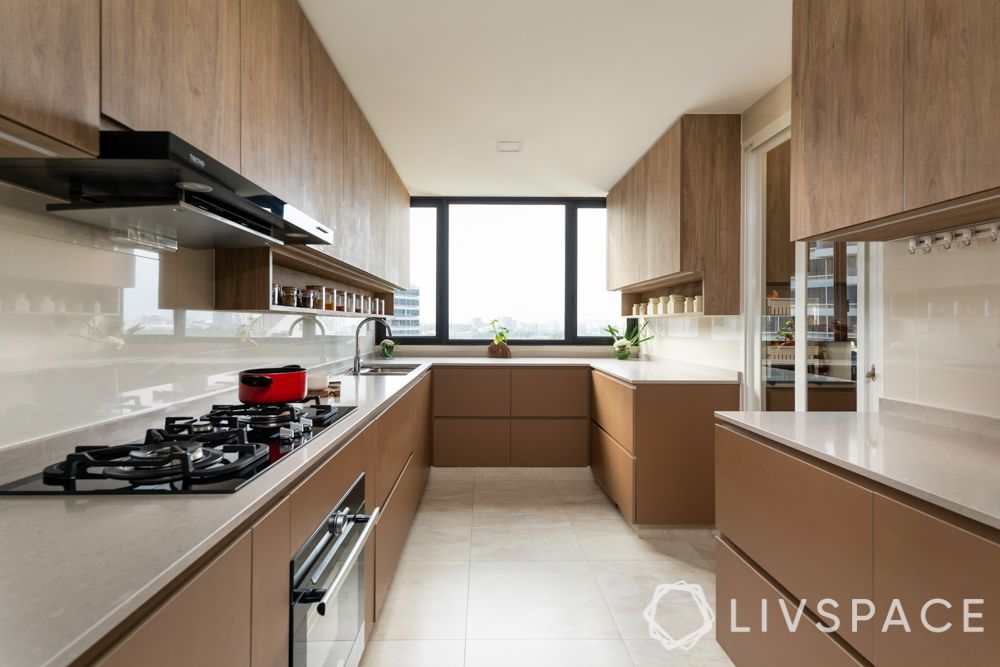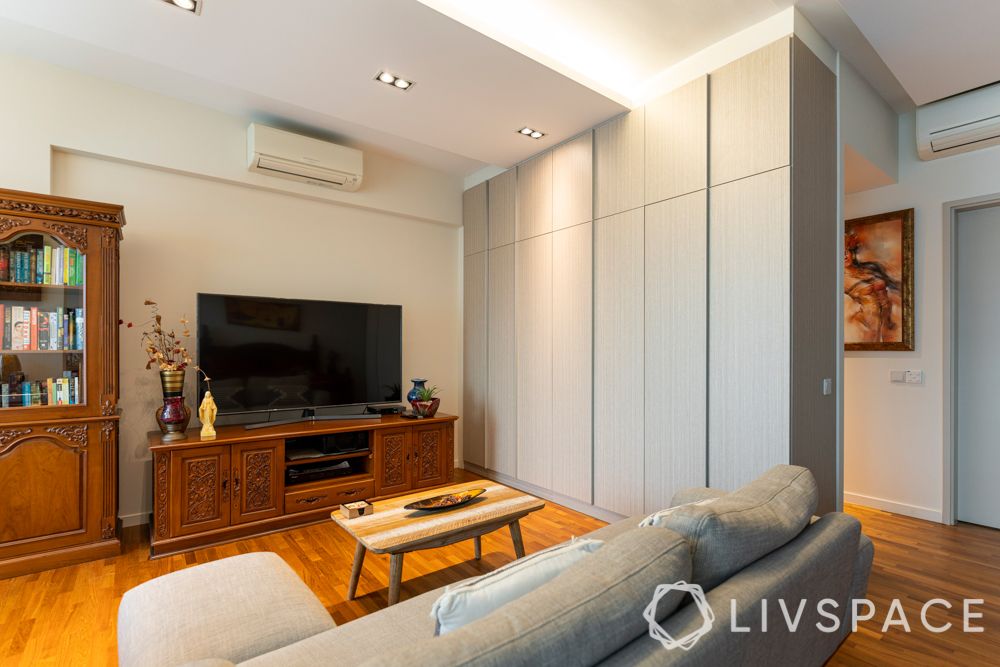 ---
Who livs here: Priya Subin Joseph with her husband and two sons
Size of home: A four-room condo
Design team: Interior Designer Shivani Malhotra and Project Manager Kent Loke
Livspace service: Kitchen, bathrooms, balcony, dining area, private lounge in the master bedroom, bedroom cum study & walkway
---
Even as Priya, the homeowner and professional chef, was selecting a home for herself and her family, she knew what she wanted from the layout —enough space to display her collection of art, collectibles, a big living room, a sizable comfortable kitchen, and lots of natural light. With mirrors that break the monotony in the walkway to the breezy balcony, this condo interior design has details that you must not miss. This space celebrates female influences and the interests and achievements of the modern chef.
What we loved: You must check out the materials and finishes used in this condo! These are so low on maintenance. Also, we love how the master bedroom in this condo has a private lounge area meant purely for relaxation.
Have you tried our kitchen quiz yet? This will help you decide on a design that suits your lifestyle and needs.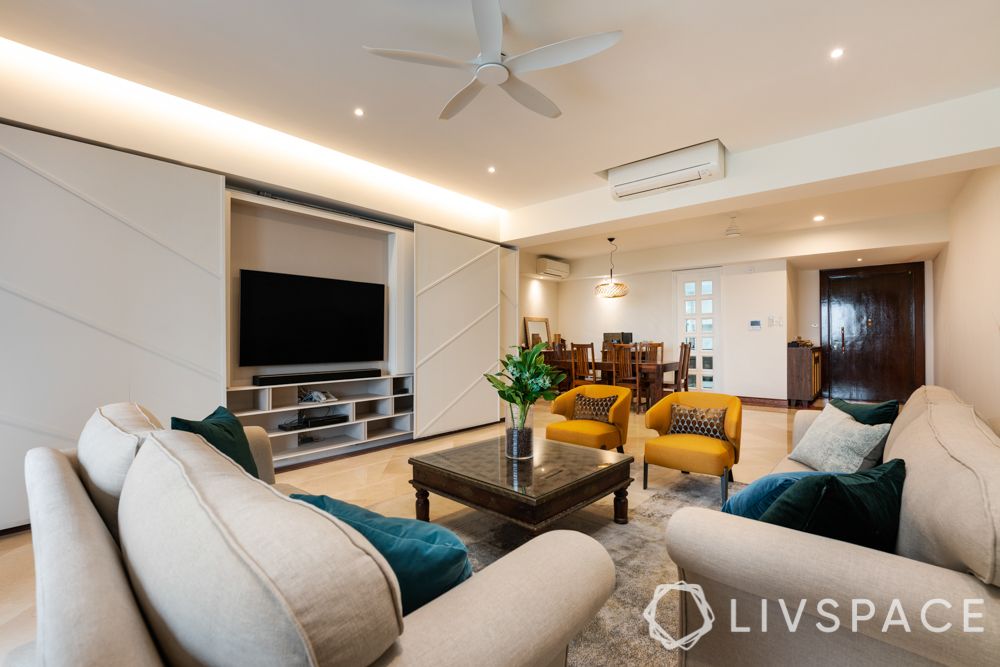 ---
Who livs here: A family of four
Size of home: A four-room condo
Design team: Interior Designer Andrea Rodriguez and Project Manager Jamaludin Abdul Ali
Livspace service: Living room, kitchen, master bathroom, kid's bedroom, kid's bathroom
---
Selecting the right colour palette and adjusting the layout can do wonders to a condo renovation project. This condo flaunts natural and raw materials that express their intrinsic qualities and it is clean and well proportioned. This 30-year-old condo was screaming for a renovation and when our designer took charge, she left no stone unturned to make sure that her clients are happy. Wait till you see the little details that make this condo interior design look like it's worth a million bucks!
What we loved: As soon as you enter the condo you will see this sliding door with trims, that hides away the TV unit in plain sight. You should also check out the marble flooring and custom-made doors for each room. The designer also gave a personal touch to the customised shoe rack with rattan netting that the homeowners absolutely love!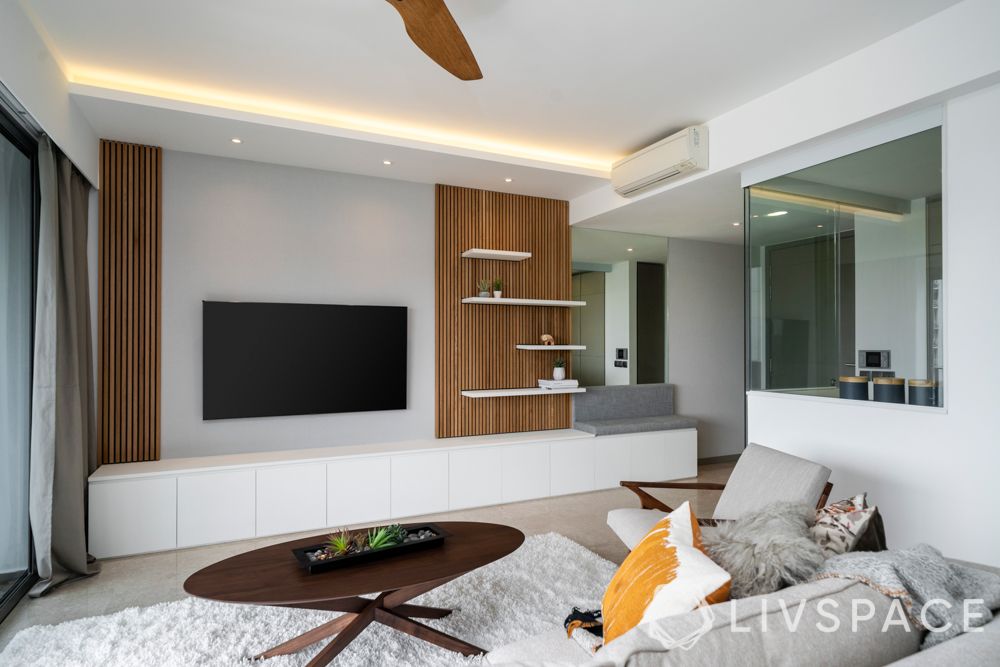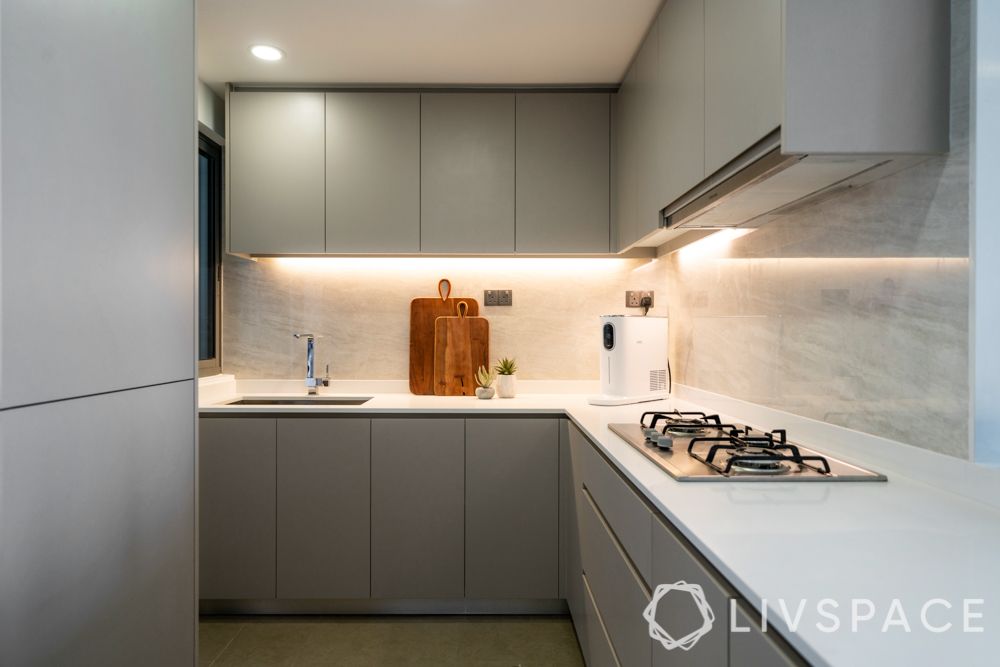 ---
Who livs here: Amy Law with her husband Marcus Tan and their two
Size of home: 127 sqm
Design team: Interior Designer Herry Tan, Project Manager Kent Loke and Business Manager Andrea Rodriguez
Livspace service: Design, painting, electrical, lighting, feature walls, carpentry and bathroom renovation including tiling and plumbing
---
If you are searching for condo interior design ideas in Singapore, this simple, uncluttered home is the way to go. It's elder-friendly and wheelchair-accessible too. Taking inspiration from the lush green surroundings, it's filled with neutral colours and plenty of wooden elements. Amy and Marcus' Feng Shui master had already dictated certain sections of the layout. Using these as the starting point, Andrea their designer started designing this condo.
What we loved: We are crushing on the feature wall made of oak wood panelling in the living room. Also check out the Italian ceramic tiles for the walls and floor of the bathroom. The small study table in a corner of the spare room is also a superb idea!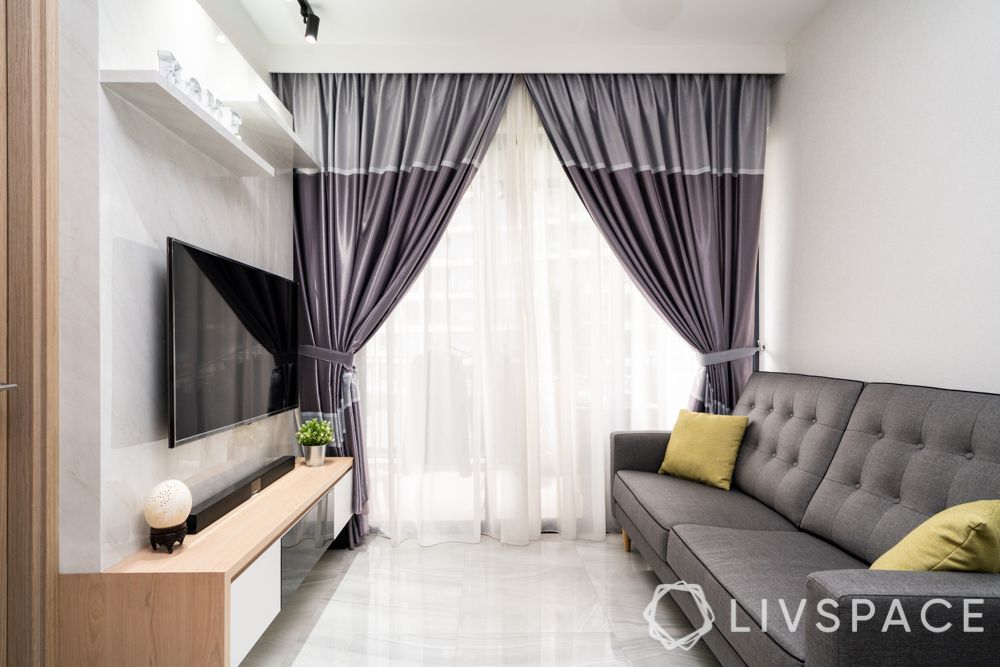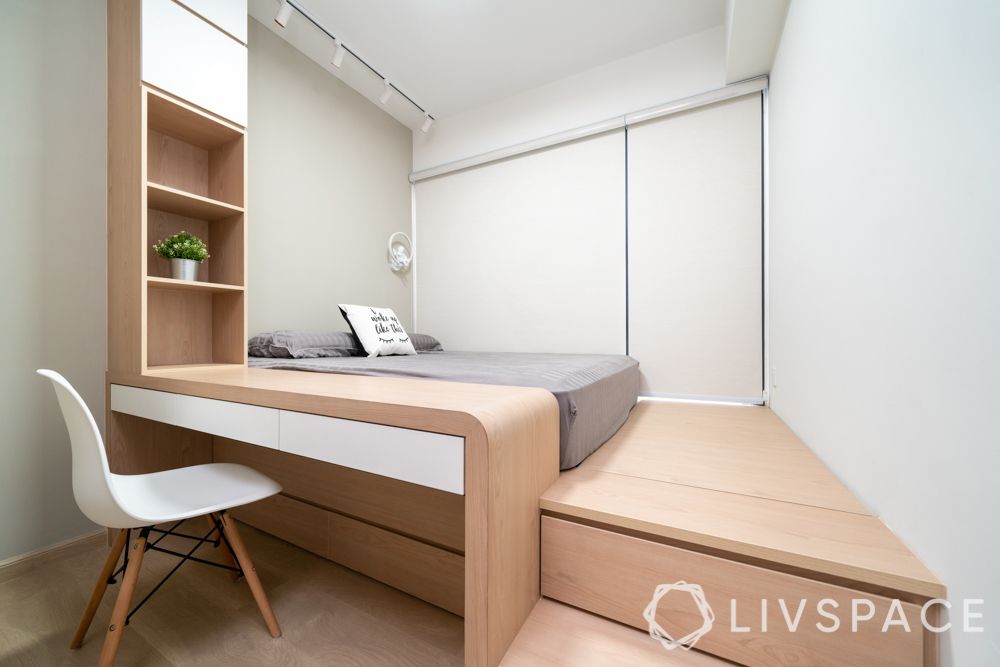 ---
Who livs here: Kate and her sister
Size of home: 55 sqm
Design team: Interior Designer William Chong and Project Manager Andee Ching
Livspace service: Living room and bedroom design
---
Sometimes, a modern and minimal home design is not about scaling down and keeping decor to the bare minimum. It can also be about using the space the right way without creating a cluttered look especially for a small condo interior design like this. This is just what we have done for this super compact condo that is shared by two sisters.
Looking for design inspiration to creatively fit in a home office like this home? Look no further. Check out The A-Z of Home Offices and How to Make it Comfortable.
What we loved: There are some unique condo interior design ideas to steal from this Singapore home. Platform beds with ample storage space in both bedrooms are made of oak wood, and have attached study units that save up a lot of space. Also do not miss the hand-picked drapes and blinds in both the rooms.
We hope you enjoyed the condo interior design inspiration! If you're looking for HDB designs then you must check this out: 5 Stylish & Practical HDBs With Ideas to Steal.
Send in your comments & suggestions to editor.sg@livspace.com.