If there's one room at home that most often requires renovation, it has to be the kitchen. Whether you move into a new HDB or condo or a resale flat, you will always need ideas for your kitchen design. From space planning to design, functionality and aesthetics, these designs of kitchen will give you enough inspiration. We have ideas from classic to trendy and everything in between! Explore the best of kitchen designs from our favourite Livspace homes so far.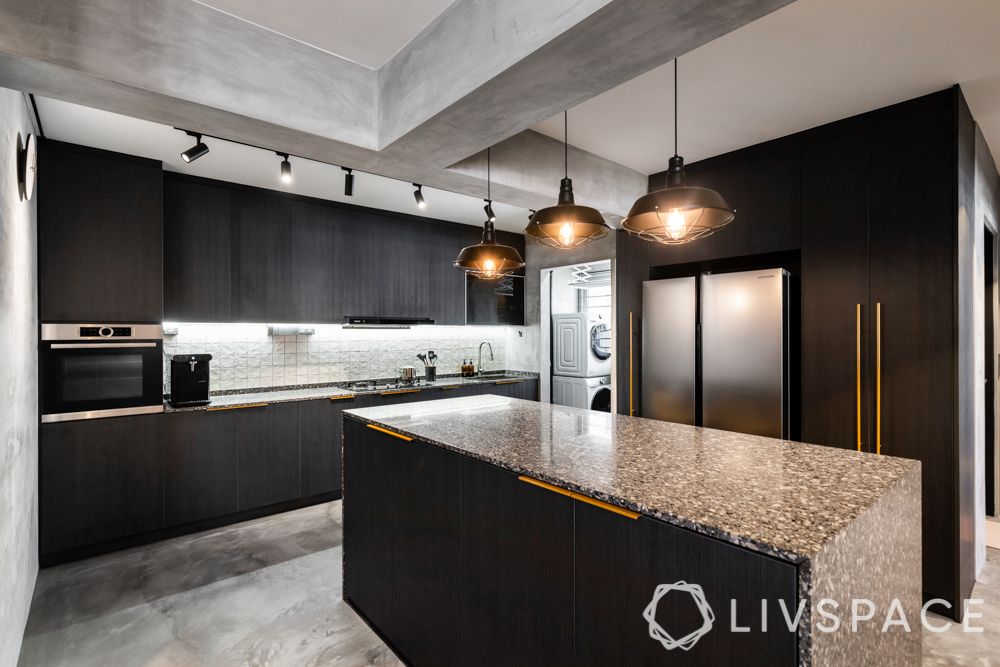 Kitchen layout: Island kitchen
Do not miss: The raw industrial design elements like the cement screed ceiling beam and exposed lights.
This home has been our favourite for a lot of reasons but the kitchen is definitely the biggest of them. Staying true to the industrial theme of design, you will spot laminates in black-browns, doors of dark natural wood, a terrazzo stone countertop, and wrought iron pendant lights laid out cleverly to form a compelling dark-toned imagery. Playing up the functionality of this kitchen is the storage-intensive island and ample cabinets that have been designed and placed carefully so as to provide a lot of space for circulation.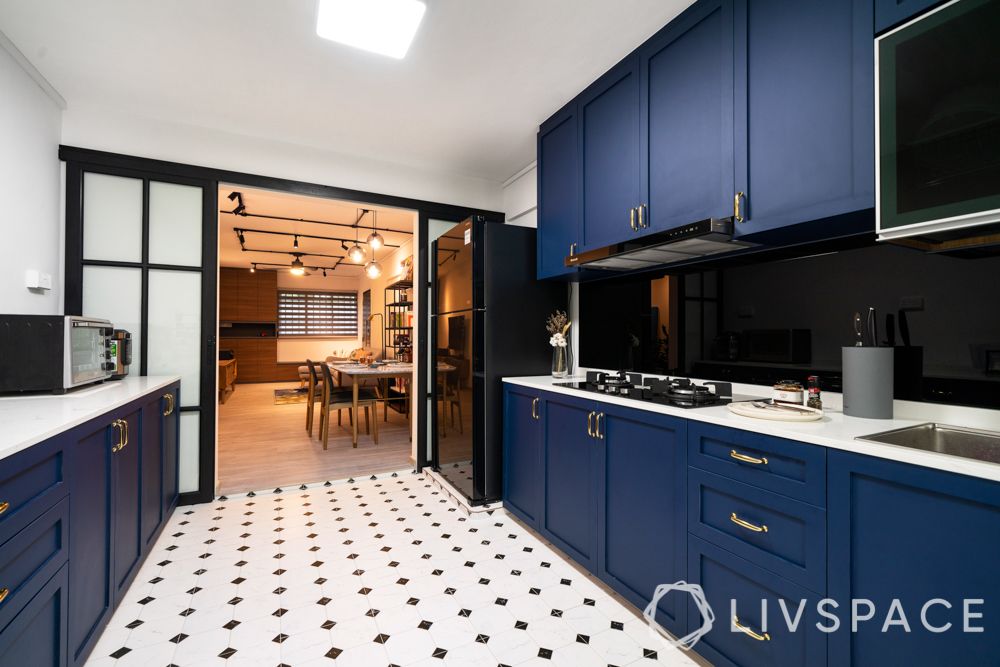 Kitchen layout: Parallel or Galley kitchen
Do not miss: The diamond-patterned ceramic and porcelain tiles for the flooring that adds oodles of character to this already striking kitchen.
One of the best designs of kitchen that we've featured on this list, this one is inspired by the country-style of design. It features navy blue cabinets made of solid plywood and a laminate finish. In addition, it sports dainty gold-coloured IKEA handles. Moreover, they have installed a set of black aluminium powder-coated sliding doors to give it a more modern feel.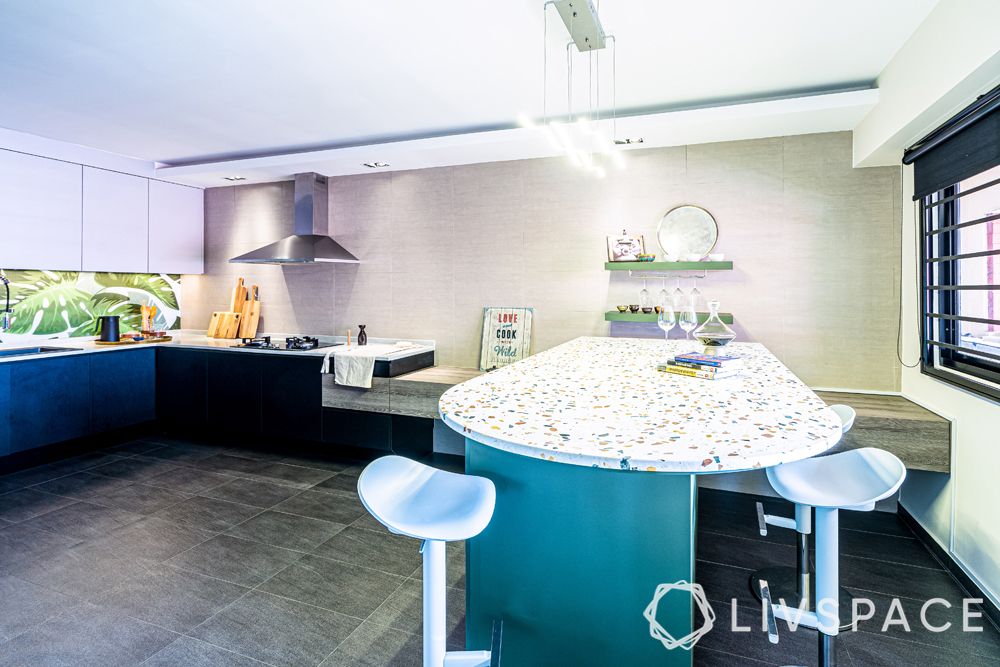 Kitchen layout: Island kitchen
Do not miss: The tropical-inspired design on the backsplash and matching wall shelves.
If there's a kitchen to soothe your senses and take you back to your tropical holiday, it has to be this! With its soothing colour palette and well-spaced out layout, this kitchen grabs our attention. Making the look easier on the eye are the minimal wall cabinets that are substituted by simple wall shelves on one side. This is the ideal design for a young family that loves cooking and enjoying meals right off the burner.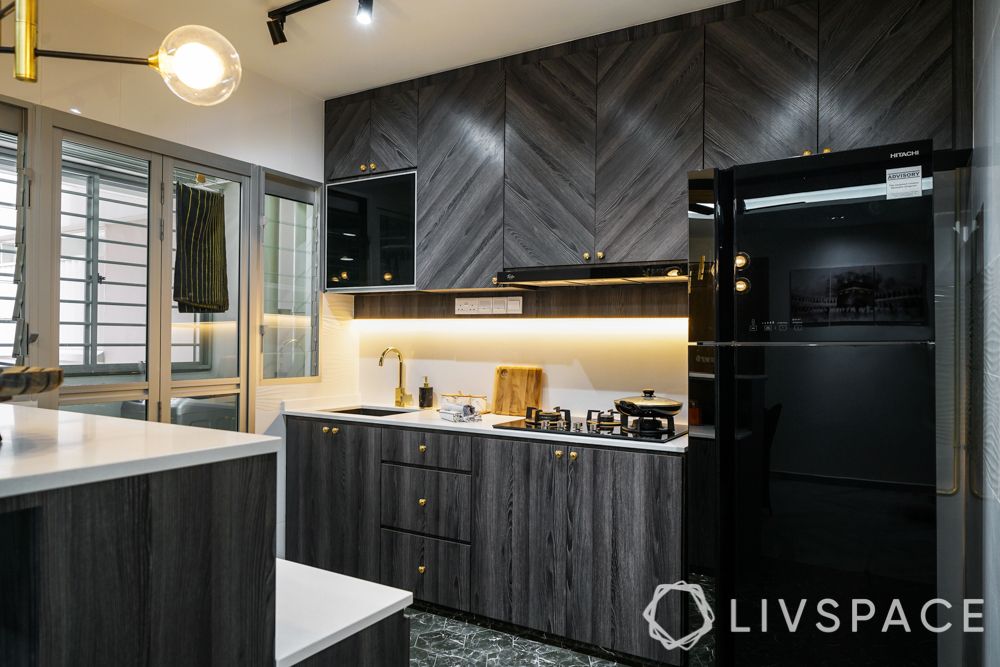 Kitchen layout: Island kitchen
Do not miss: Glass bulb lights and unique herringbone pattern on the cabinet laminate.
When our designer is dealing with a compact space, they start coming up with unique ideas and this designs of kitchen is a perfect example of this. Since there wasn't enough space to place a separate dining table here, we gave the family a kitchen island that opens up into one. What's more, he added a two-tier Caesarstone countertop to the island for expanding the prepping area of this tiny kitchen.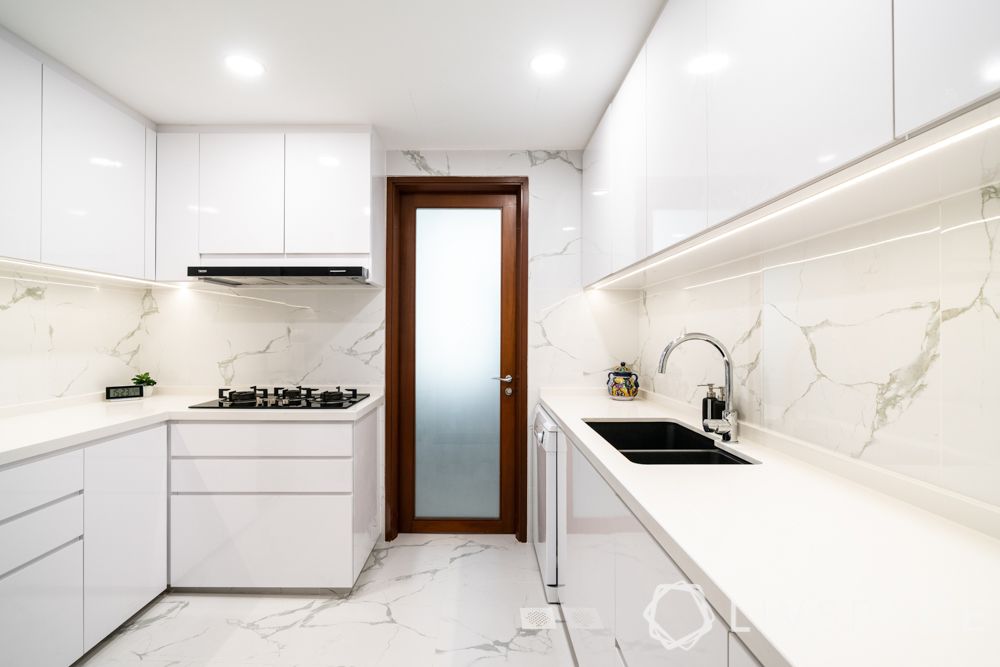 Kitchen layout: U-shaped kitchen
Do not miss: Recessed lights on the ceiling and LED strip-lights under the cabinets along with the classic marble-patterned backsplash and flooring.
This kitchen is designed for heavy Indian-style cooking with a lot of spices. Hard to believe? Looking at the stark white cabinetry and finishes, it is almost impossible to believe that this kitchen can be easy to maintain. But it is. The materials used here are low maintenance and we have also added cool white lights so that it brightens up the space a little more. Other interesting elements here are the black steel appliances and accessories. They fit in seamlessly and add a modern and functional touch to this space.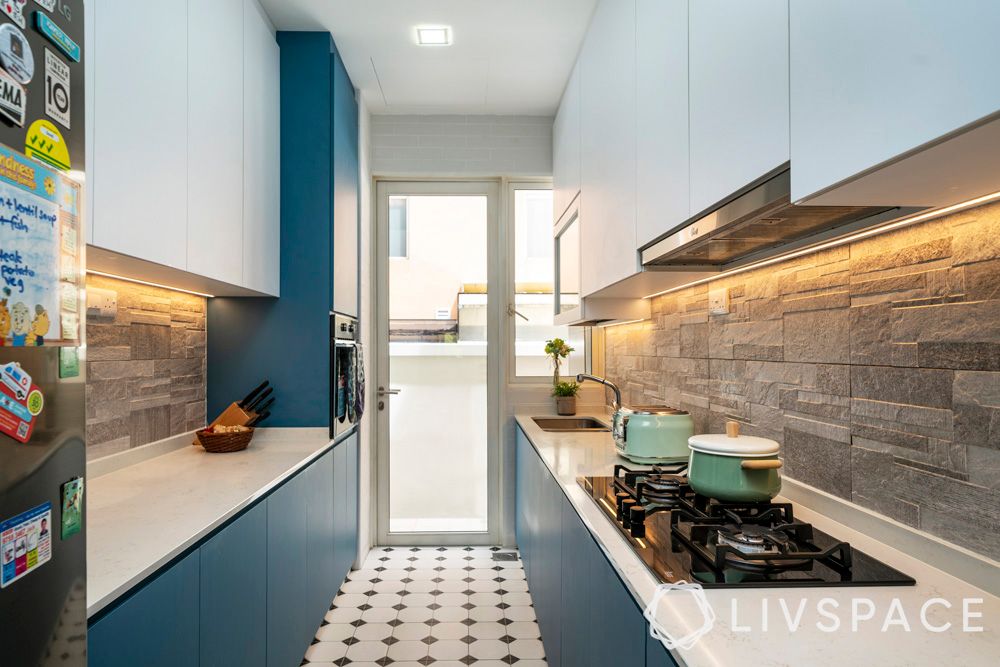 Kitchen layout: Parallel or Galley kitchen
Do not miss: The stone-cladded backsplash which is undoubtedly the highlight of this kitchen.
This kitchen is literally no-frills attached, functional and seamless. The quartz countertop accommodates a model stainless steel sink. The cabinets are handle-less and have matte laminate finishes. The backsplash is made of cluster stone tiles that are easy to clean and add a rustic edge to this kitchen. To ensure that there is enough light for prepping, the cabinets are equipped with profile LED lights.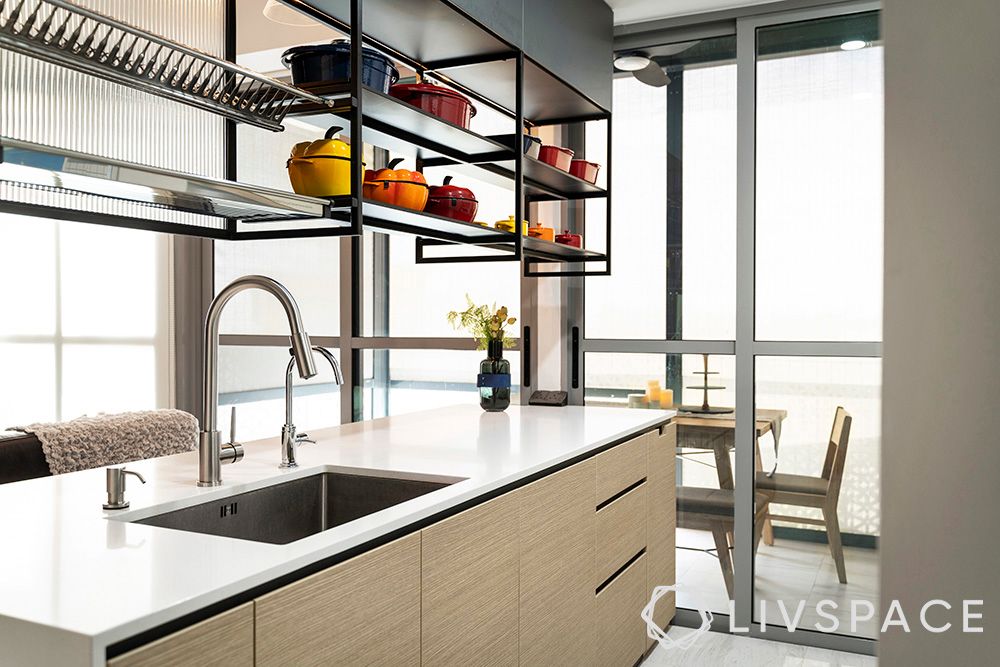 Kitchen layout: Open kitchen
Do not miss: The suspended display rack that also acts as a divider between the open kitchen and the living room.
We absolutely love the breakfast-cum-kneading counter in this open kitchen! If you are someone who loves baking, you will appreciate this design. The huge counter can easily be utilised for kneading while watching a game on television with a clear view of the living room. Your baking utensils and other tiny accessories can go up in the black powder-coated metal shelf suspended from the ceiling. This will not eat into your kitchen space and also adds an interesting touch to the design.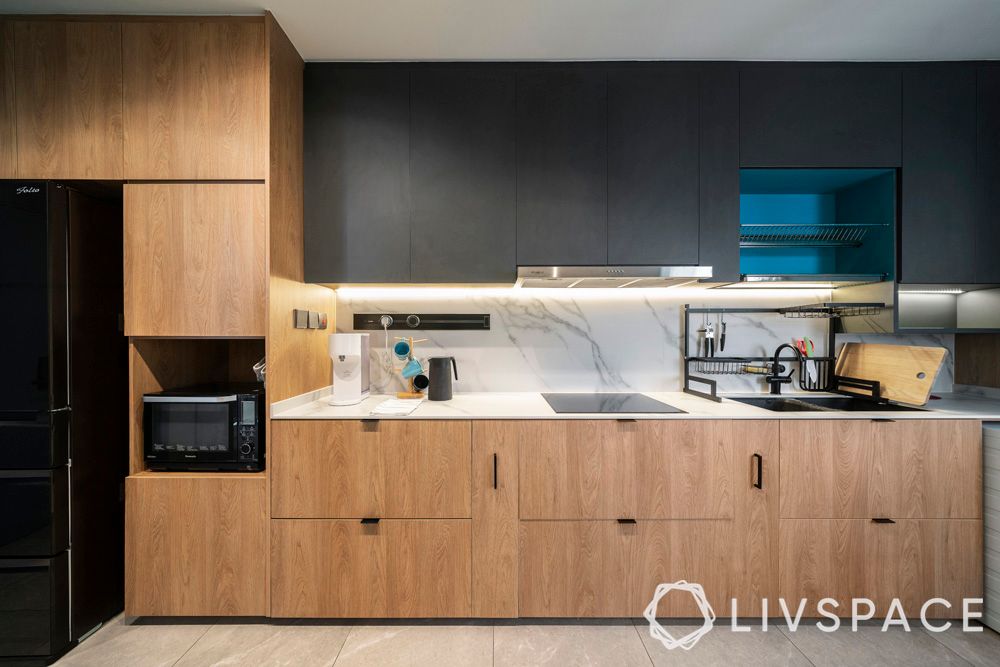 Kitchen layout: L-shaped kitchen
Do not miss: The marble backsplash that is an extension from the countertop to maintain continuity in design.
This kitchen is perfect for a big family since the space is huge and we could incorporate a lot of design as well as functional elements. We wanted to combine aesthetics with functionality, hence we suggested they go for a lot of drawer storage. Also, the colour combination is very unique with black, white and wood tones coming together. This kitchen is also equipped with the latest electrical appliances that fit into their designated spaces seamlessly!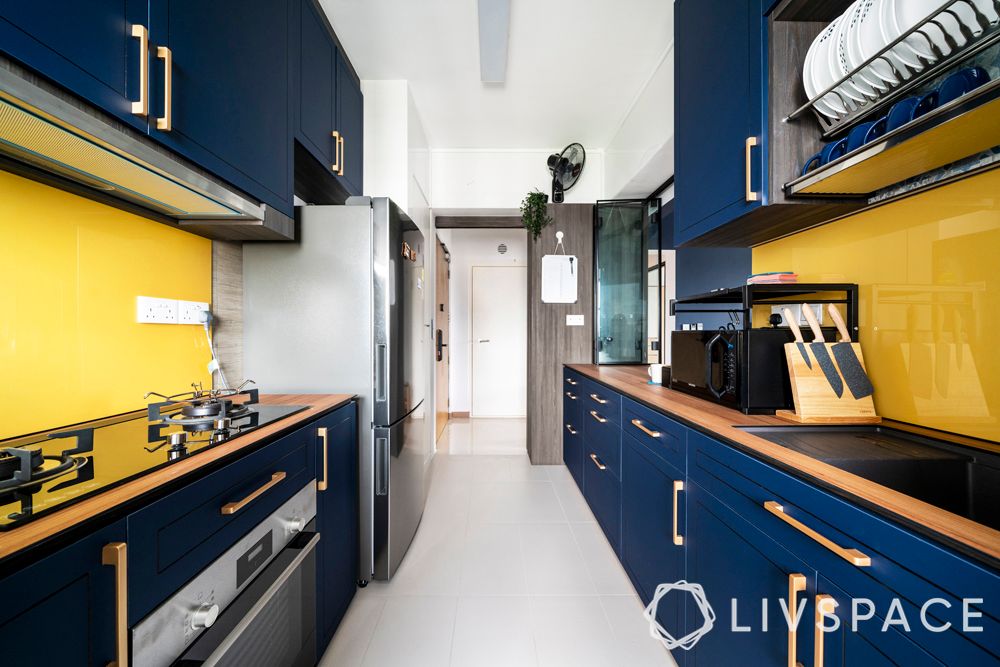 Kitchen layout: Parallel or Galley kitchen
Do not miss: The collapsible glass window next to the microwave which is a pass-through window for serving food.
We are absolutely crushing on the pop colour combination in this kitchen! Blue and yellow is an eye-catching combo and we wanted to uplift the mood of this space with this striking pair. The kitchen cabinets are finished in EDL's Fenix laminate, which has nanotechnology that is fingerprint resistant, anti-bacterial and also has "healing" effects. (Yes, you read that right!) So, if you are looking for some recommendations, we say, this is it!
Kitchen layout: U-shaped kitchen
Do not miss: The warm wooden flooring and porcelain tiles on the backsplash.
This is one of those designs of kitchen that you should bookmark. It has everything from ample storage to a corner with bar stools to grab a quick drink or snack. There is also a high-tea pantry corner with wooden wall ledges that acts as a highlight for this unique kitchen design. This English Farmhouse-style kitchen is designed using bold blue laminates on the cabinets and an open bar island with a travel display shelf.
We hope you have found enough inspiration for your kitchen renovation now. If you're still looking for some more, check out: 6 Stunning Scandinavian Kitchen Designs That Will Make You Go Wow.
Send in your comments and suggestions to editor.sg@livspace.com.