As we all know, selecting the right colour palette and layout can do wonders for a renovation project. This Pebble Bay condo underwent major renovations and the result will take you by surprise!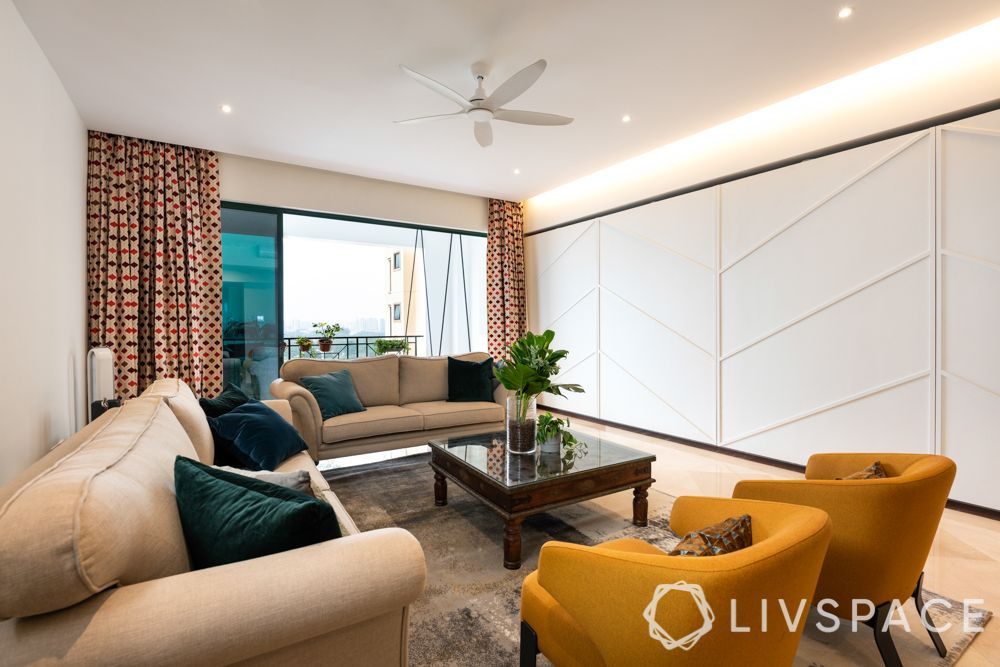 ---
Who livs here: A family of four
Location: Pebble Bay
Type of home: A four-room condo
Livspace team: Interior designer Andrea Rodriguez and project manager Jamaludin Abdul Ali
Renovation scope: Living room, kitchen, master bathroom, kid's bedroom, kid's bathroom
Budget: $$$$$
---
Every renovation project is unique and Andrea Rodriguez, the designer of this Pebble Bay condo, takes us through the journey she undertook for its renovation. "I enjoy working with natural and raw materials that express their intrinsic qualities, so my style is quite organic, clean and well proportioned," says Andrea. This is exactly what you can see at this 4-room condo in upscale Pebble Bay.
We believe that if one is successful in picking colours according to the space and ties the design requirements with it, the result is absolutely stunning. This 30-year-old condo was screaming for a renovation and when our designer took charge, she left no stone unturned to make sure that her clients are happy and they get their picture-perfect home.
Welcoming You With a Unique TV-Console-cum-Feature-Wall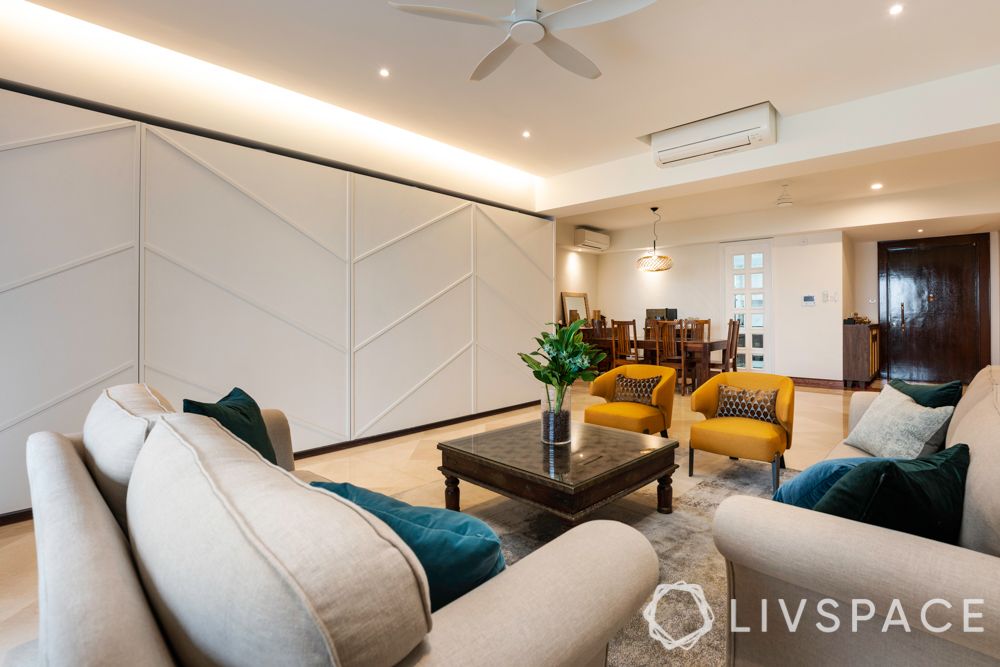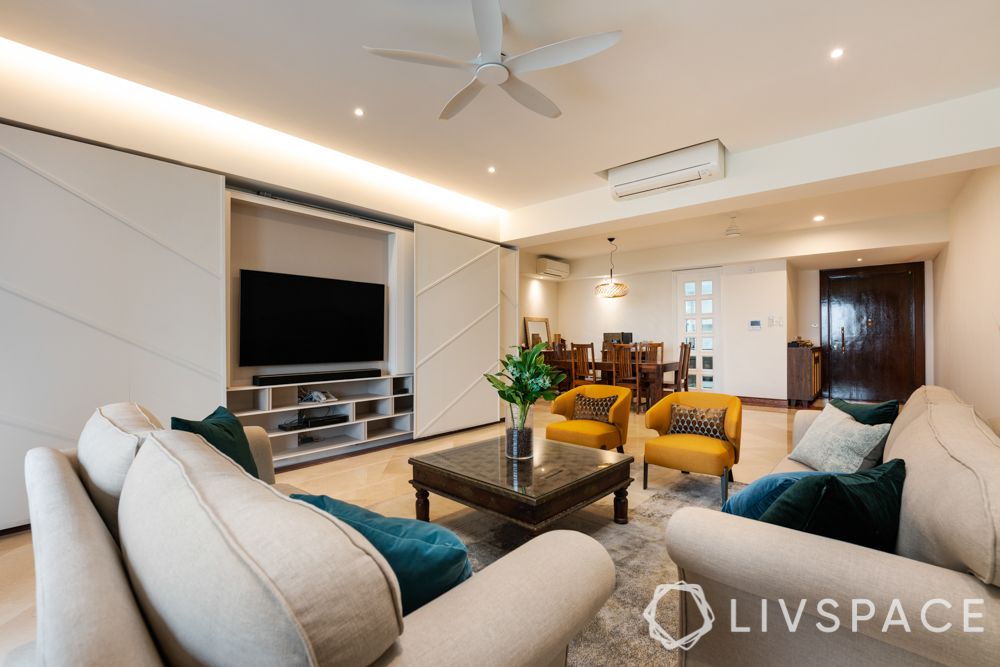 The moment you step inside this spacious Pebble Bay condo, you will notice this lovely feature wall in the living room. But that is not all that it is; it opens up into a TV console. A common sight in Singapore condos, having a sliding door to hide away the TV unit is no surprise. But how Andrea made this unique is by adding timber trimmings to the white laminate door. Another design element you should focus on is the false ceiling that the family really wanted here. Warm light peeping through the ceiling adds a softness to this living room.
Some Amazing Design Highlights of This Pebble Bay Condo
A sliding door to separate the view of the bedrooms from the common areas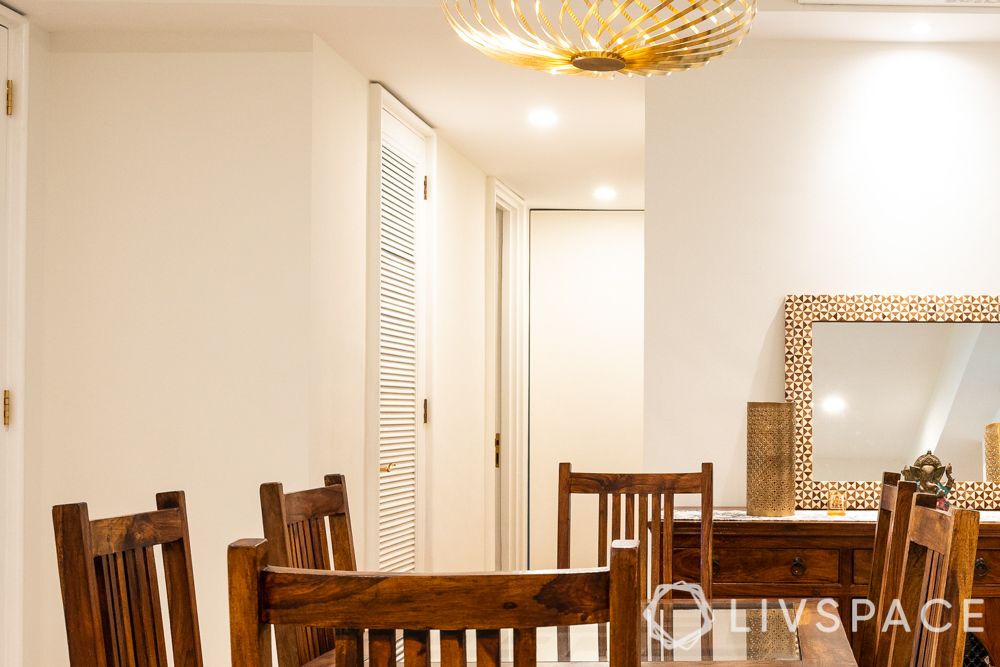 What do you do when you have young kids at home but still enjoy entertaining friends over a drink? Take a cue from what Andrea has done at this Pebble Bay condo. At the end of the condo hallway, which leads to the bedrooms, she added a pivoting hinged door that closes and separates the bedrooms from the common areas. This helps the couple to host friends and family without disturbing their kids. Such a smart idea!
A custom-made piece designed especially for the family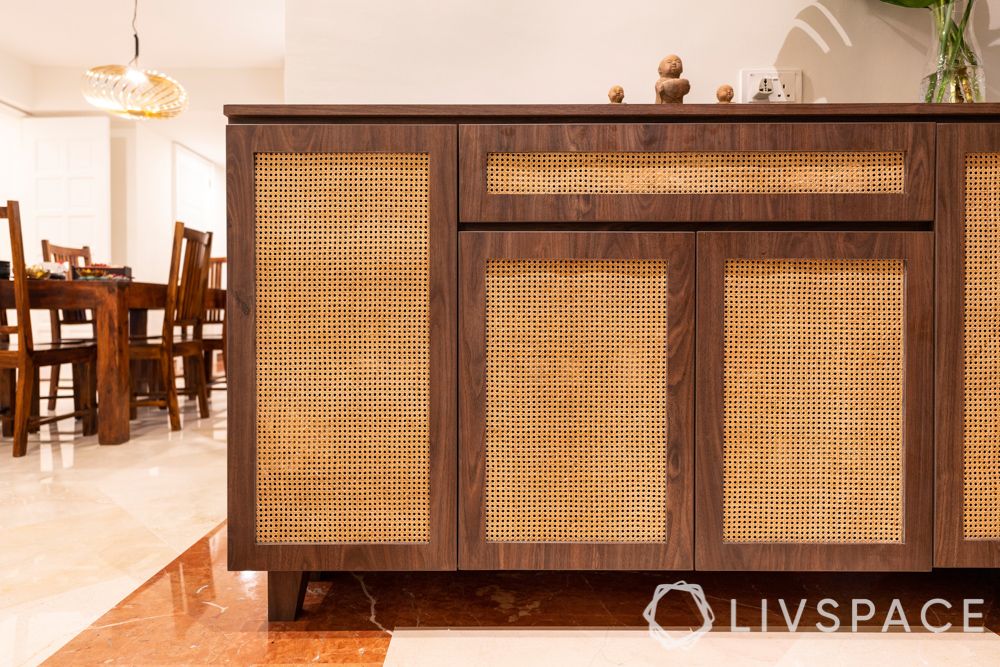 Something that this family insisted on was a shoe rack. But Andrea went the extra mile and customised one for them. She designed this piece with a laminate frame and rattan netting, which facilitates ventilation. Now shoes go out of sight and still breathe inside this piece.
Displaying the family's love for rustic furniture in the dining room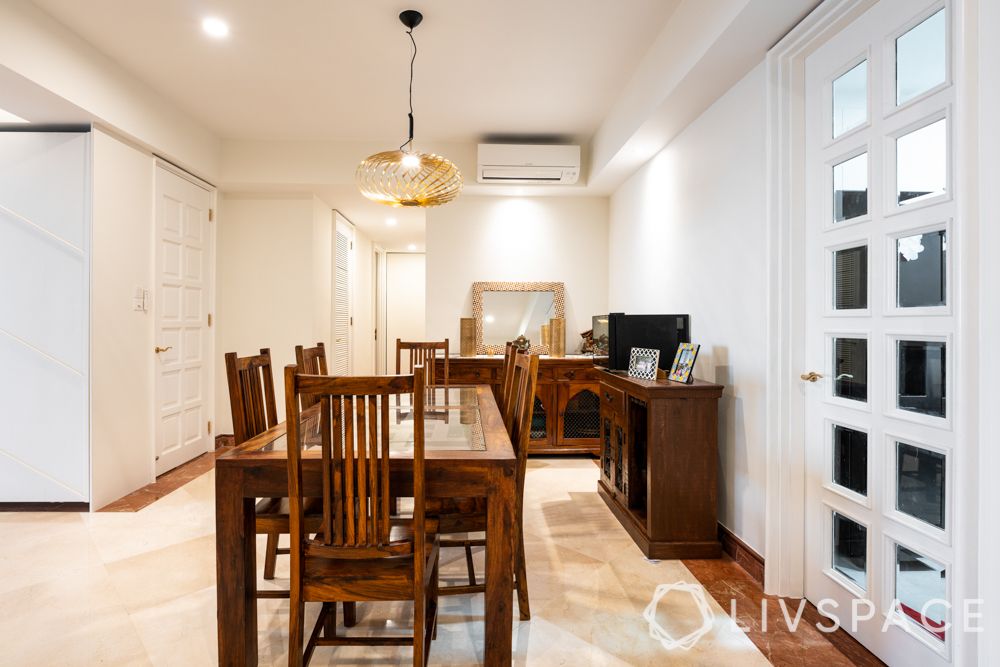 The family had a lot of furniture that they wanted to retain and Andrea made sure she designed the space around it. As a result, Andrea decided to keep the focus on the dining room furniture by keeping the doors all in white with wooden framing and a pendant light to make it more intimate.
A Seamless Look for This Contemporary Kitchen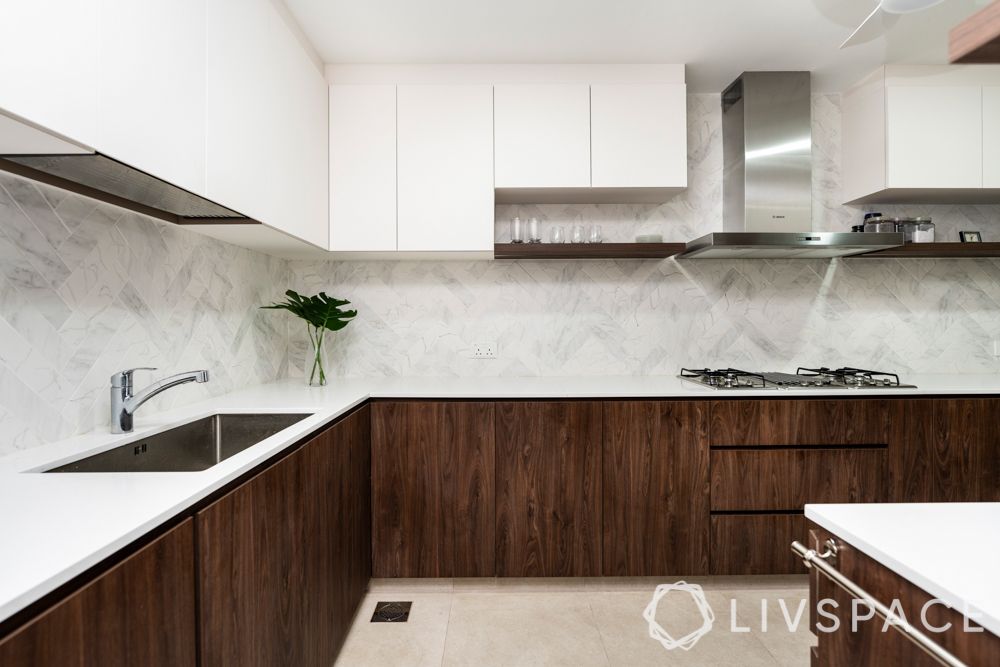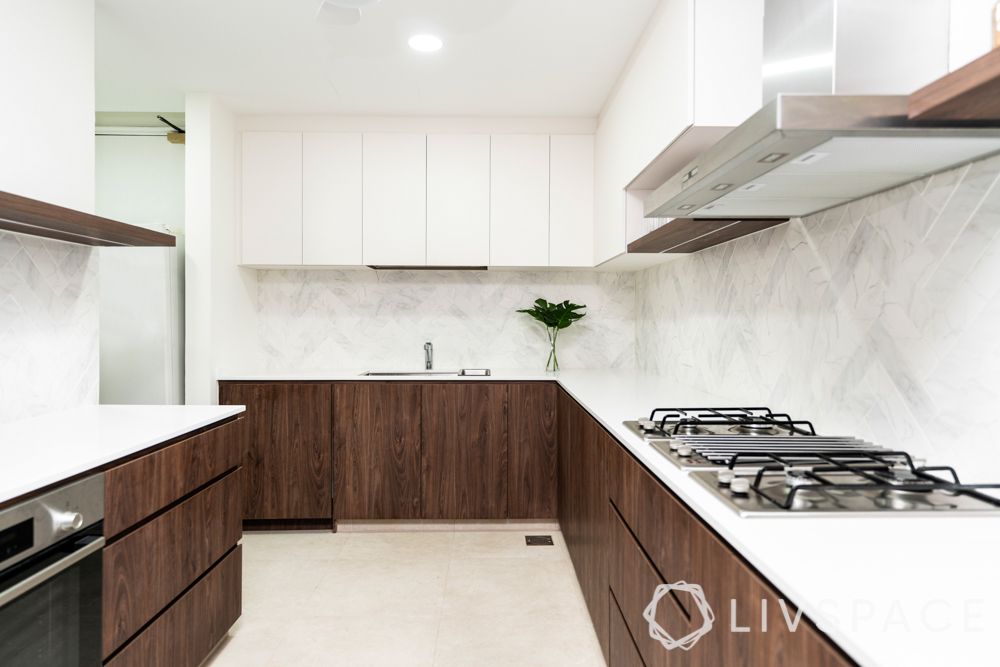 The kitchen in this Pebble Bay condo is one space that was completely broken down and renovated from scratch. Some features that stand out here are the matte laminate cabinet doors with the base cabinets flaunting a wooden look. Ceramic tiles laid out in herringbone pattern on the backsplash add a subtly stylish touch. A quartz countertop and stainless steel dish rack and faucet help make this kitchen look seamless. The door is also spray-painted to match the colour on the walls.
ALSO READ: How to Make Your White Kitchen Interesting and Make it Stand Out?
Study Room With a Minimal Details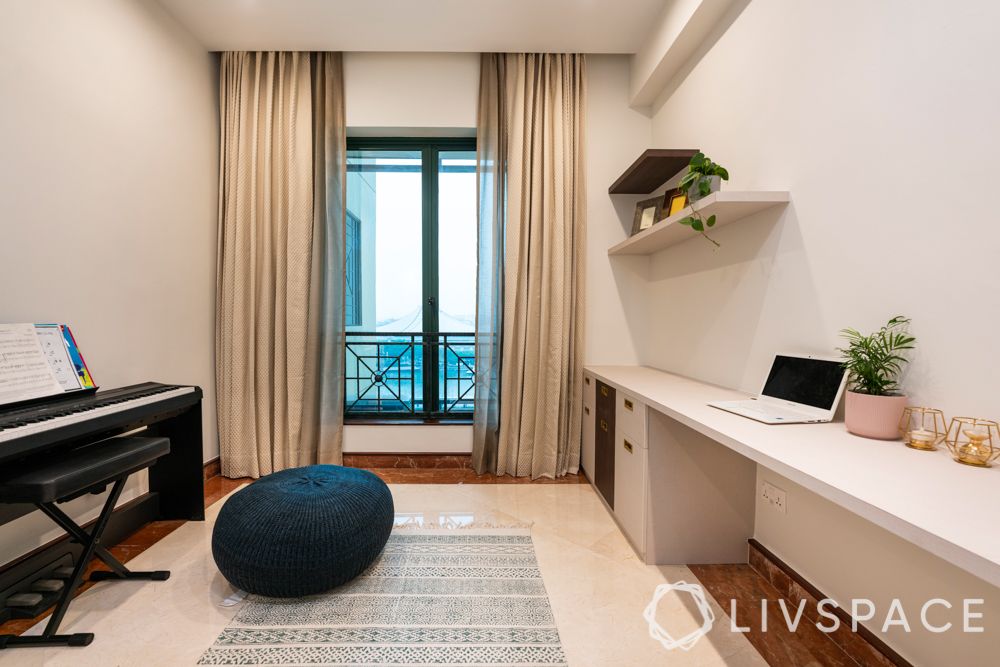 There was just a requirement to add a table in this study since the family wanted to retain the flooring and the windows. Therefore, Andrea added a wall-to-wall study table in laminate. Wall shelves facilitate the storage of books and photo frames depicting fond memories.
The Customised Wardrobe in the Kid's Room has Pops of Cheerful Yellow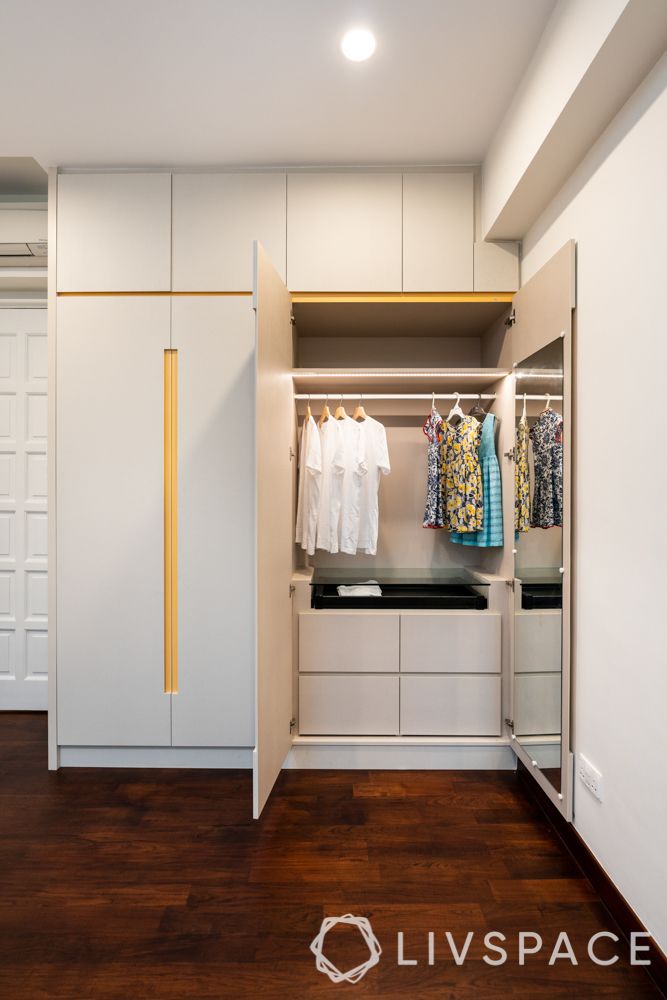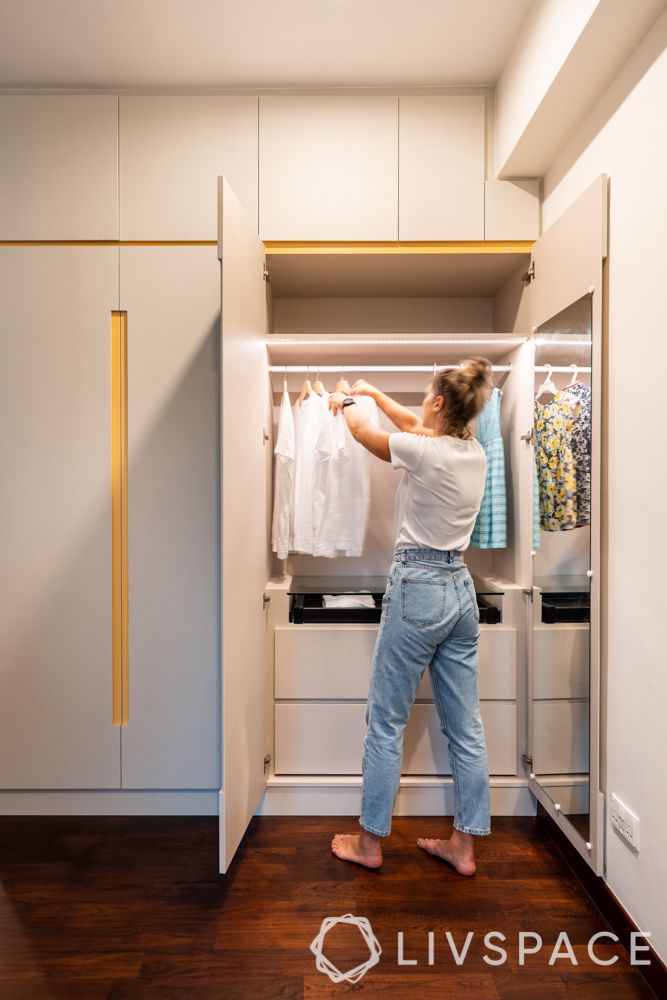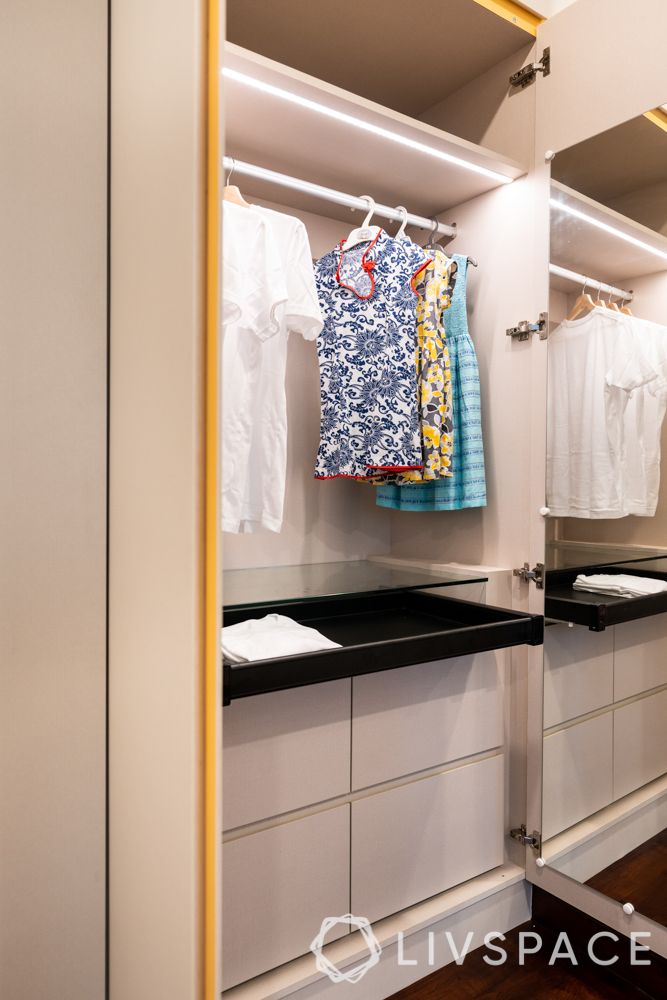 This is not an ordinary kid's wardrobe. Since this home is big on customised furniture, Andrea had to add an interesting element in every piece. This laminate-framed condo wardrobe comes with yellow borders and concealed LED strip lights. She also added a custom-made glass-top drawer so that the kids could select what they wanted without having to open it. She also added lofts to increase storage space.
Hints of Blue Brightens up the Kid's Bathroom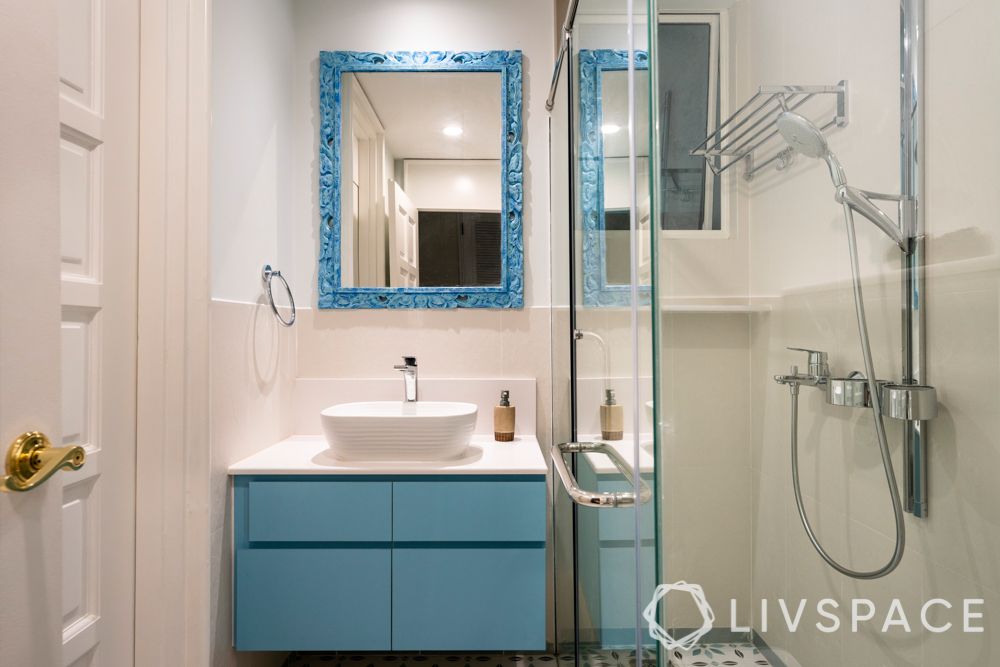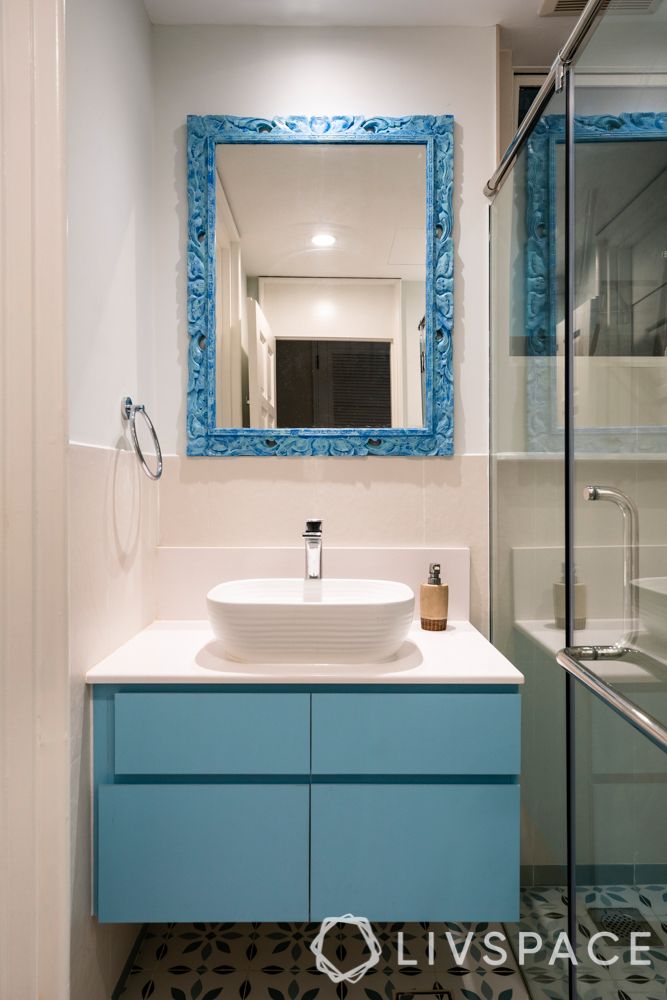 The highlights of the kid's bathroom in this Pebble Bay condo are the pop of blue and porcelain tiles on the floor. A quartz countertop decks the vanity unit. Although this bathroom is pretty compact, we love how design has not taken a backseat. The teal blue accent really ups the style quotient of this space.
Marble Magic Show in This Master Bathroom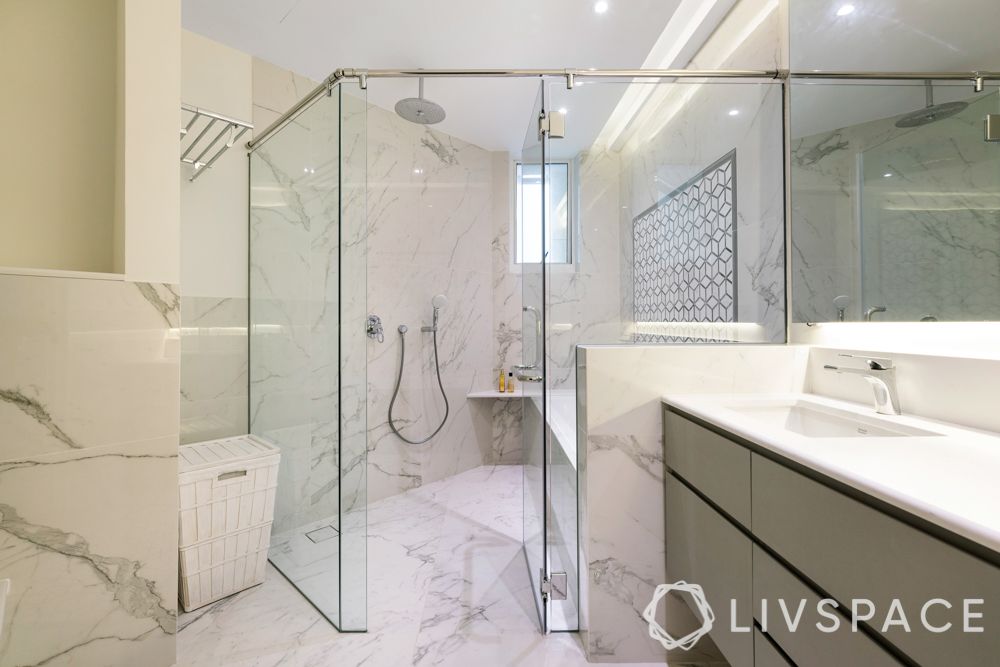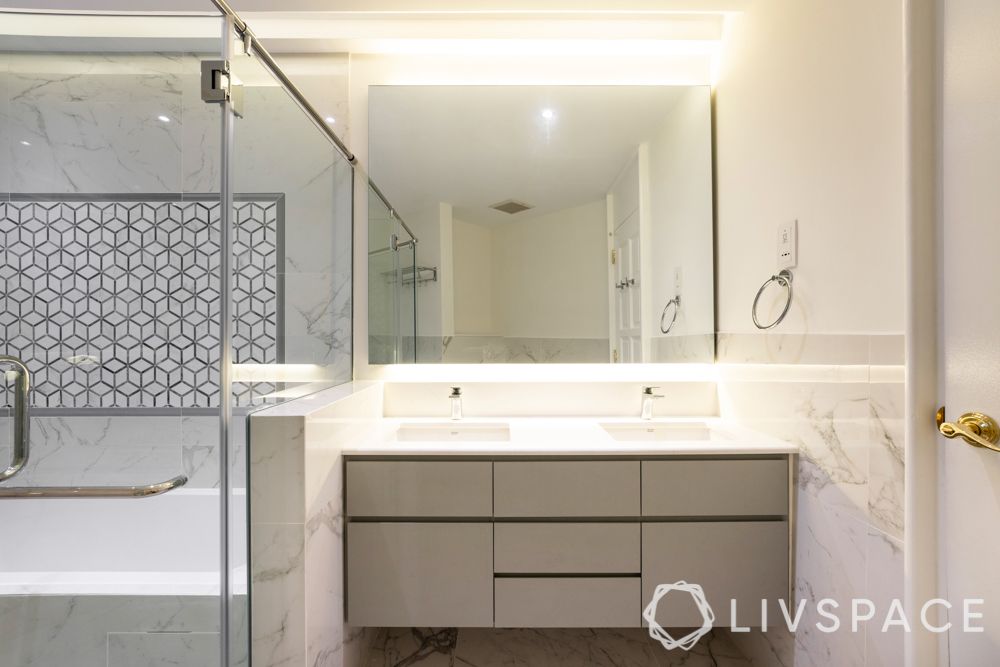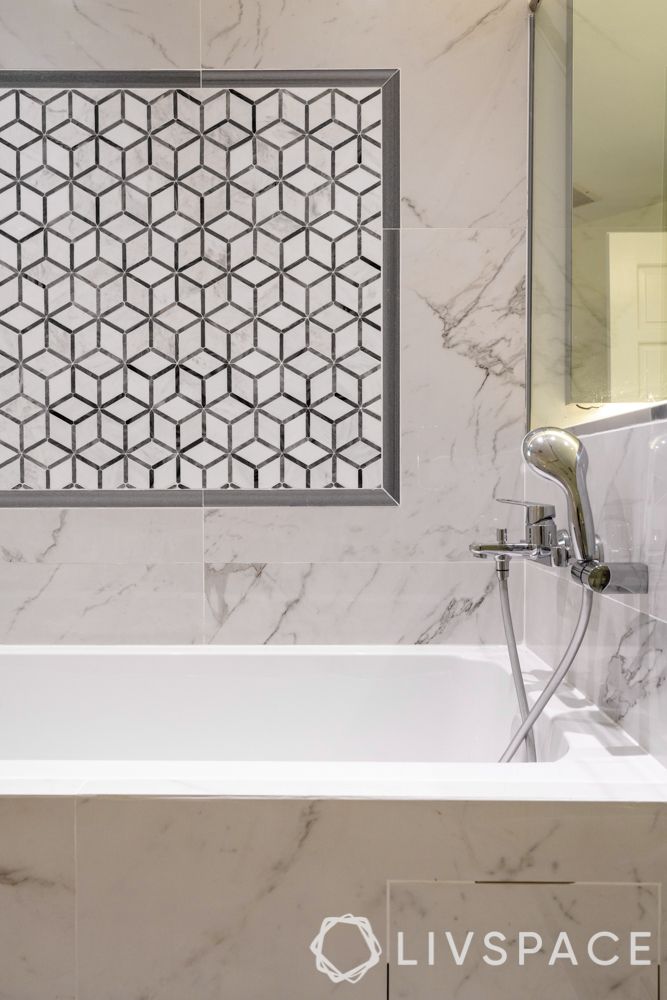 Describing the unique features of the master bathroom in this Pebble Bay condo, Andrea tells us that this space was designed with marble as the hero. She has used marble framing and handcrafted marble mosaic flooring everywhere. There's a quartz latch above the bathtub and a tempered-glass screen that separates it from the dry area. The insert marble decorative tiles above the tub and elevates the look.
How can Livspace help you?
Want beautiful interiors like this Pebble Bay condo? Then Livspace is your answer. Our expert designers will deliver quality and safe interiors. All you have to do is book an online consultation.
Learn more about our COVID-19 safety standards here.
Want to see more beautifully designed homes? Here are our recommendations:
Space-savvy, Stylish Condo Design with Cafe Vibe
This 72 sq. m. HDB Has Seamless Storage in Almost Every Room
Send in your comments and suggestions at editor.sg@livspace.com.